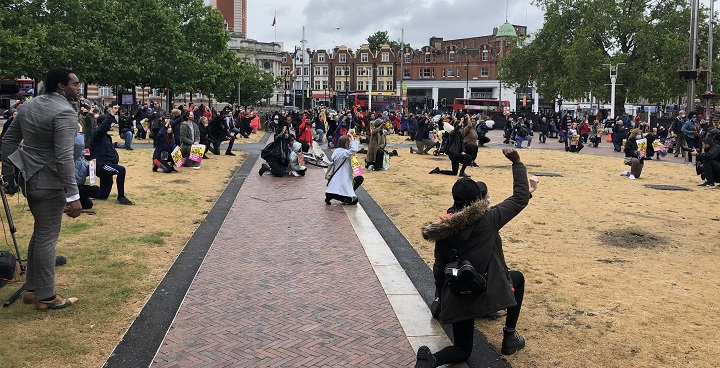 July's 12-page special edition of Lambeth Talk brings news and updates from the council and the community. It includes important information from the Boundary Commission you need to know before you have your say on ideas for Lambeth's  wards this month.  The front cover shows people 'taking a knee' in Windrush Square to honour Black Lives Matter – a message you can read more about inside.
News and updates include
Cllr Jack Hopkins, Leader of Lambeth Council, comments on Windrush Day, Black Lives Matter, community safety, challenging racism, listening events for minority communities, and our lobbying action on inequalities of the impact of Covid-19 on Black and Minority Ethnic communities.
Invitation to join July's online meeting and have your say about proposed changes to our electoral wards – important information from the Boundary Commission which .
The virtual Lambeth Country Show July 18 & 19 – this year's interactive version of a great weekend for all the family with cooking lessons, live music, shopping, poetry, a digital stroll round the flower show, things for kids to make and do and – yes! – the vegetable sculptures.
Creative kickstarts to Unlock the Potential of young people. The answer to summer lockdown boredom – learn online and create magazines, music, arts management, youth work and more.
Cllr Sonia Winifred, Cabinet Member for Equalities and Culture, talks about Black Lives Matter, the Windrush Generation, and valuing diversity within Lambeth
First-person report on a Covid-19 test.
Translated versions of pages on Lambeth's Shopping Service, and the information from the Electoral Services and Boundary Commission about how to have your say will be available very shortly.
Get your copy of Lambeth Talk
lambeth-talk-july-2020-edition

July's Lambeth Talk will be distributed free by post to every household and business in the borough, with Royal Mail deliveries starting on 6 July.
Or you can read it online now or download a copy.