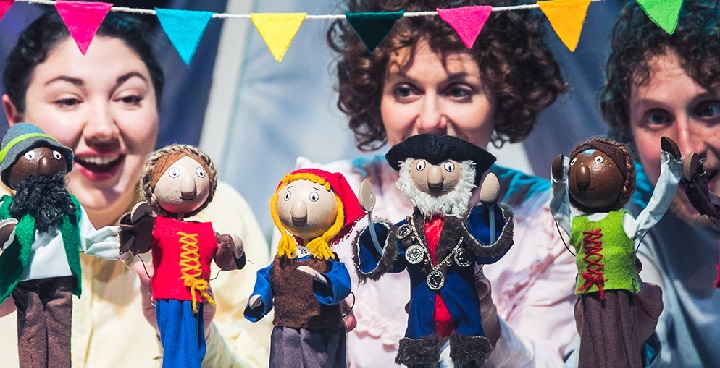 Events for all ages at the Herne Hill Kids' Lit Fest 2020, from Tuesday 4 to Sunday 9 February. Join us for poetry, performance, storytelling, illustration and creative writing, followed by evening talks, workshops and an open mic night to share work. Headlining on Saturday afternoon will be former Children's Laureate, Chris Riddell, and his daughter, the talented illustrator Katy, with live drawing and talking stories with local children. They will also announce the winners of the 'Stepping Into Stories' Story Making Competition.
Witches, mermaids, puppets and publishers
Other highlights include fun with witches and mermaids with Sibéal Pounder, author of the 'Witch Wars' series and 'Bad Mermaids'; a musical puppetry adaptation of Michael Morpurgo's 'Mimi and the Mountain Dragon'; a Teen Reading Panel with award winning author, Nicola Morgan; and an inspiring 'How To Get Published' panel with experts.
 Firmly on the map
Herne Hill Kids' Lit Fest is a unique collaboration between the Herne Hill Forum, Children's Writers and Illustrators for Stories and Literacy (CWISL) and Tales On Moon Lane Children's Bookshop, and is partly funded by a Thames Water compensation award following their devastating flood in 2013. Tamara Macfarlane, acclaimed children's author and owner of Tales On Moon Lane, comments: "We were one of the businesses worst hit by the flood. This Children's Literary Festival will put the area firmly on the map as a thriving destination for children's publishing and storytelling. We intend to launch an annual Herne Hill Kids' Lit Fest, that will become a major event on the literary festival calendar".
Station Hall
The majority of the festival will take place in Herne Hill's Station Hall as part of an ambitious programme to raise £1m of capital funding for this community space.
Schools programme
Local pupils will also participate in a four-day programme of events purely for schools. This builds on the success of the Herne Hill Book Week Festival at Station Hall in March 2019, which was attended by over 650 local children.
More information