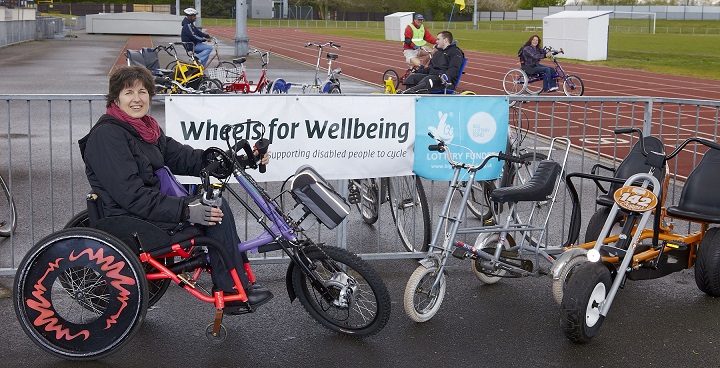 Lambeth is preparing to roll out a borough-wide 20mph speed limit in Lambeth as of November 2015.
By reducing speeds to 20mph, it will reduce the number of casualties in the borough, improve pedestrian safety, encourage more confidence among cyclists and cut the number of incidents around schools.
Isabelle Clement, the Director of Wheels For Wellbeing tells us why she is supporting the Lambeth Goes 20mph campaign:
Wheels for Wellbeing' sole purpose is to ensure that people who thought they couldn't cycle realise the fact that they can. We specialise in supporting disabled people into cycling and therefore we are able to support anyone who has experienced difficulties or anxieties about cycling. We work with all ages, from 2 to 102!!
Many people feel that active travel is not an option for them. We work for a city where everyone who wants to ride can ride.
I am the Director of Wheels for Wellbeing. I campaign for an inclusive cycling environment, manage the organisation, lead our wonderful team of staff and volunteers and constantly look for ways to keep the organisation afloat.
I hand-cycle to work once or twice a week, I don't ride fast so if I have appointments away from the office during the day I still take other means of transport (car or bus).
I have not had an accident so far, but I do worry about the state of the roads. My hand-cycle has 3 wheels – 3 chances to hit the pothole and tip out!
What I like most about cycling is the endorphins afterwards; the smells of flowering lime trees in early summer; the looks on people's faces as they see me hand-cycle past them.
The main issue I have on the road is too much traffic and too little space for cycling on main, direct roads- Inadequate and inconsistent cycling provision.
I think Lambeth becoming a 20mph borough is a great idea! Slower speeds will make drivers realise cyclists are not actually holding them up and give time for people to take in who else they are sharing the roads with. I hope it encourages more people to consider cycling more for transport.
I hope that Lambeth can become the most inclusive cycling borough in London, where everyone has the option to travel actively, from the very young to the very old.
Find out more
More information about the council's plans:
For more information about cycling in Lambeth please visit our cycling homepage
Please visit the Wheels for Wellbeing website for more information about their work supporting disabled people into cycling. Follow @WfWnews on Twitter or like WFW on Facebook