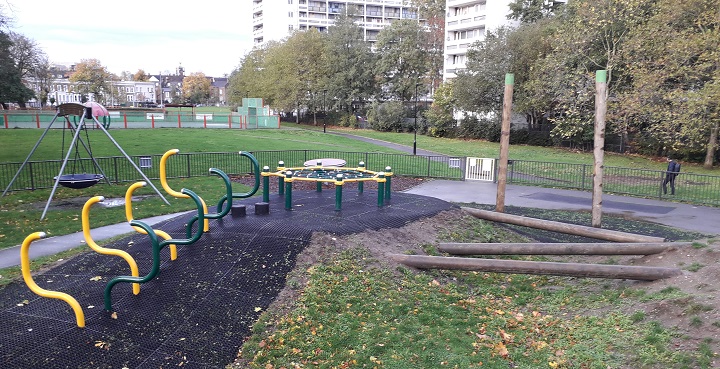 Wyck Gardens Play Area was created in 2011.  This year, Lambeth sought the views of local residents on proposals provided by contractors on how to replace play equipment reaching the end of its useful life with better play value for both pre-school and primary school children.
Sharing consultation
Millbrook Road Residents Association looked at and gave feedback on three proposals from suppliers. Lambeth councillors took an active part in sharing the request for residents' views more widely on social media. Council officers also answered local concerns that new swings would be standard size. The community also asked for one piece of equipment to be tailored to the area's needs, changing the proposed 'net climber' for a climbing wall. So far, it certainly looks like the new equipment is a better experience for local children.
Word from the Cabinet
Cllr Sonia Winifred, Lambeth Council Cabinet Member for Equalities and Culture, said: "Working with the community to deliver a space safe space for children and young people has been our priority.  COVID-19 has highlighted the importance of our parks and open spaces  the Council and our parks team  are committed to providing children and young people access to safe spaces to play across our borough. I am extremely please to see this well- developed and welcoming play area at Wyck Gardens."
Keeping open space open
Council contractors worked hard to minimise the impact on park users, keeping the park open  when COVID-19 made people value open space more than ever. The work was completed in 11 working days  – just over two weeks – and only the play area was ever off-limits.
Different zones
The updated play area has different zones:
An outer circle, replacing swings that were damaged beyond repair with new ones on steel frames guaranteed for over 20 years. These include one flat swing and one cradle swing for smaller children. The popular basket swing has been kept – it still offers excellent play value. So has the Spinner.
We installed a new Junior Multiplay climbing apparatus, creating a more challenging climb for ages 6 and up, and a new, separate Toddler Multiplay.
The people's choice – the new circular climbing wall (for over-6s) –– is in what used to be an empty space.
The final touch will be replacing park benches – old ones have been removed – making the area attractive to adults as a place to relax.
More information
See Lambeth Council's information pages for more about Lambeth's parks and playgrounds, including a map.
All Lambeth's public playgrounds are open (so far) during lockdown. Please see the Government's website for any updates.