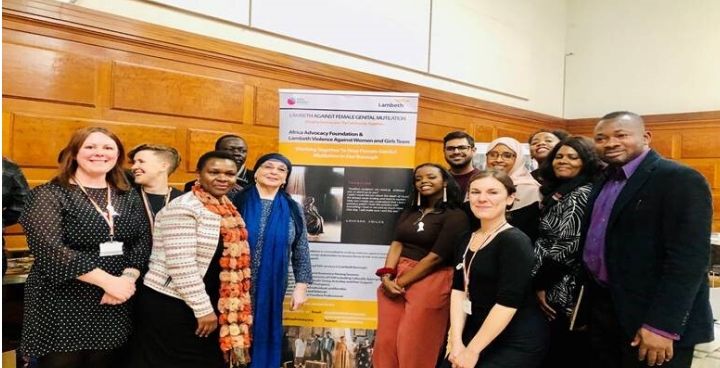 On 28 November, to mark International Elimination of Violence Against Women day 2019 and as part of the 16 days of Activism Against Gender-Based Violence, Lambeth Council hosted a conference in partnership with our commissioned specialist Female Genital Mutilation (FGM) service Africa Advocacy Foundation (AAF).
Bringing communities together
The event aimed to bring together Lambeth practitioners and community members to raise awareness about what is being done in Lambeth to prevent FGM and support survivors and to come up with ideas on how to develop and improve our response.
107 guests attended from a mixture of practitioner and community backgrounds and listened to a range of speakers from health, police, children's social care, specialist FGM services, survivors and campaigners. AAF's young advocates recited moving poetry and performed original music about the subject of FGM and participatory theatre company Precious Stones used a rousing performance to begin debates on tackling FGM. Strategic Director of Lambeth Children's Services Annie Hudson opened the event and Cabinet Member for Jobs Skills and Community Safety Cllr Seedat closed the day.
The event
Guests took part in roundtable discussions about what more Lambeth can do to prevent the harmful practice of FGM and support survivors. Their feedback ranged from putting on more training for practitioners, involving survivors in creating and delivering services, and encouraging men to get involved in campaigning activities. Suggestions have been collated and will be used to inform the next Lambeth VAWG Strategy which will be published in 2020.
Guests were all asked to complete evaluation forms and 100% of those who fed-back reported that they felt the talks were relevant, varied and useful for their work in this area. 100% stated that they felt the event gave them an opportunity to have their voices heard and taken seriously.
Comments from event attendees
Some quotes from guests;
"It was a very informative and educational experience"
"We need more of these events to raise awareness about this serious issue and support more women in the community"
"It was powerful hearing the story of a survivor of FGM"
"It was really insightful, emotional and honest"