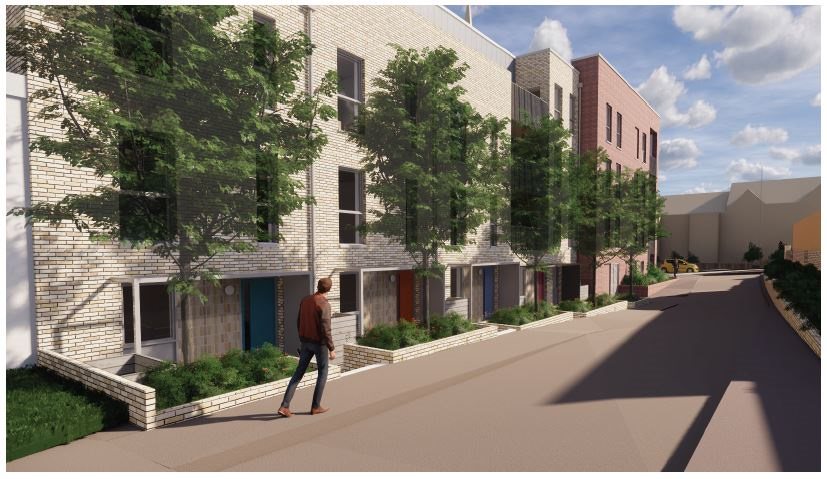 Homes for Lambeth– Lambeth Council's wholly-owned housing company – received planning approval for the new homes, on Ropers Walk, Trinity Rise, at a meeting on Tuesday evening.
The plans approved by the Planning Applications Committee will provide much-needed, affordable family-sized homes, with a communal landscaped garden for existing and future residents. The proposals also reduce carbon emissions by 80%, exceeding target levels and contributing towards Lambeth Council's commitment to be carbon neutral by 2030.
Councillor Matthew Bennett, Lambeth's Lead Member for Planning, Investment & New Homes, said: "I'm delighted that these new homes have secured planning permission. This will see the amount of council housing at Trinity Rise more than double, with a nearly threefold increase in the number of family-sized council homes. These new homes will be larger than the ones they replace and will see an 80% reduction in carbon as part of our commitment to fighting the climate emergency.
"We set HfL up as a fully council-owned company to build more council and affordable homes to tackle the housing crisis here in Lambeth and provide better homes for local families. This is just the latest scheme to secure permission in an ambitious programme right across the borough."
The proposals for Trinity Rise are a vital part of Lambeth Council's effort to ensure that every resident in the borough has the opportunity to live in a good quality home that is affordable and suitable for their needs.
HfL's three-year business plan, which was approved in early 2020, sets out the council's wider regeneration programme, including for the Cressingham Gardens estate.
Jitinder Takhar, Chief Executive of Homes for Lambeth, said the planning approval "marks another significant moment for Homes for Lambeth as we continue to increase the number of high-quality homes in Lambeth".
She added: "The 20 new homes at Trinity Rise will also provide many more genuinely affordable new homes with 14 of the new homes at council-level rent."
Caroline Pillay, Chair of Homes for Lambeth Group, welcomed the news and said: "At Homes for Lambeth, we are determined that we play our role in building the genuinely affordable homes which are so desperately needed, whilst tackling climate change. This application will also make a significant contribution to making Lambeth greener and cleaner."