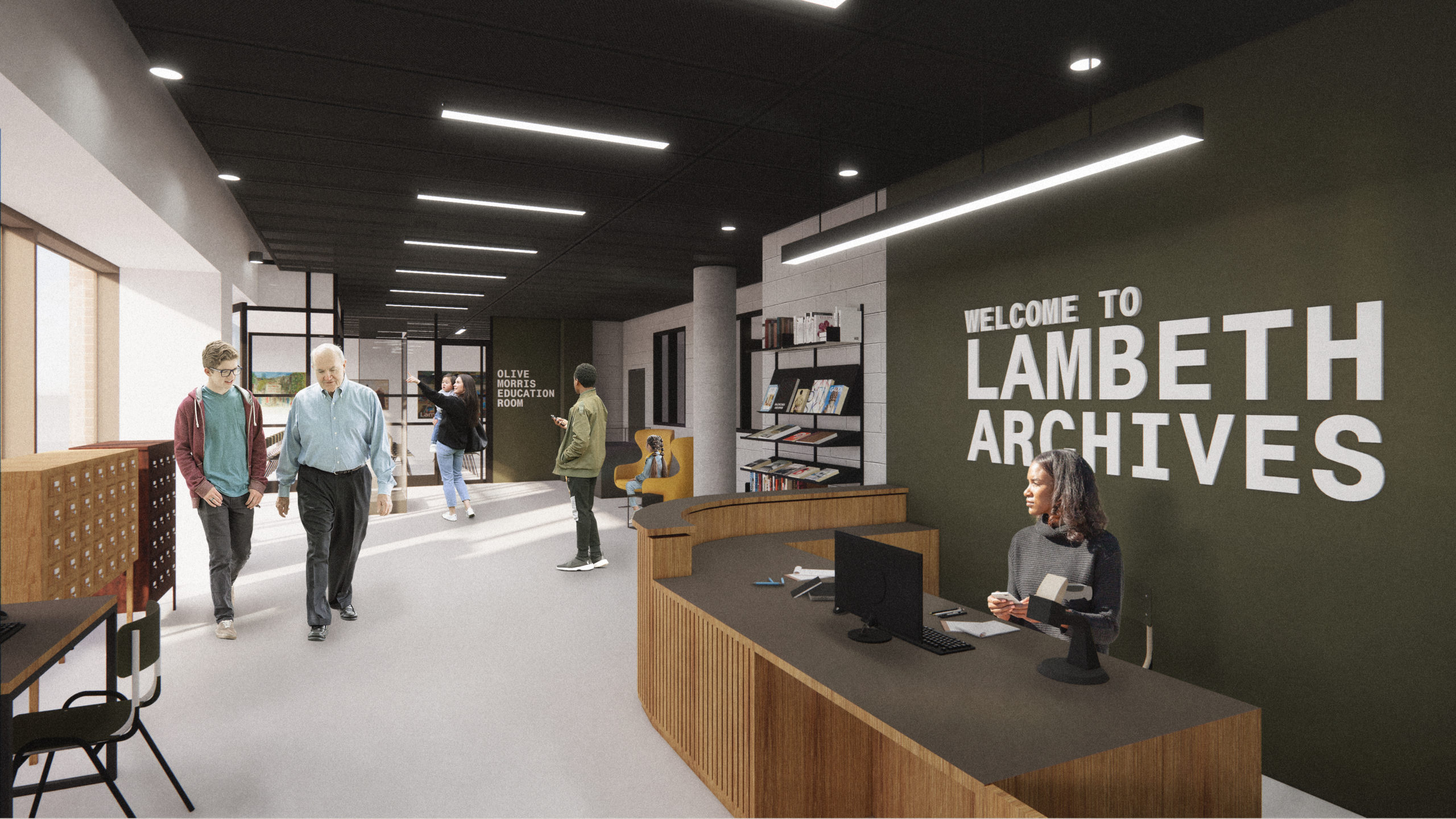 After 133 years at the Minet Library, Lambeth Archives is moving its rich historic collections of documents, books, maps and photographs about the borough and its people, to a new purpose-built venue on Brixton Hill.
Later this year, the archives will reopen to the public at the site of the former Olive Morris House, which is being redeveloped as part of Lambeth's ambitious blueprint to reduce the number of council office buildings and provide more homes for the people of the borough.
The replacement of Olive Morris House under the Your New Town Hall (YNTH) programme will provide 74 new homes – 30 of them affordable. But the ground and basement floors are being fitted out to provide a new permanent home for Lambeth Archives. It will be a highly visible and welcoming presence, close to the Town Hall and Civic Centre.
The move from the Archives' increasingly-cramped library building on Knatchbull Road will provide improved facilities and better access to the borough's rich history and heritage for residents and visitors.
Lambeth's Archives collection documents 1,000 years of the area's local history, as well as holding 500 years' worth of records of Lambeth as a local authority, including collections of national significance and a rich local studies collection. Provision of this collection at the Minet Library had been on site since 1890 but, as well as now being full, the building has a number of limitations and it is no longer fit for purpose.
Word from the Cabinet
Cllr Donatus Anyanwu, Cabinet Member for Stronger Communities, Leisure and Sports, said: "We are excited to be moving to our new location and to be able to offer these improved facilities and services to all our visitors.
"This move will bring the Archives into Brixton's growing cultural and knowledge hub – alongside the Black Cultural Archives, Brixton House, the Ritzy Cinema, and Brixton library.
"We look forward to welcoming the community to our new home and to sharing the borough's rich history and heritage with them."
With its large open-plan public search room fronting onto Brixton Hill, just a short walk from Brixton underground and national rail stations and with local buses stopping outside, our new location will make us more accessible for all: not only for local people but also visitors from across the UK and the growing number of international researchers who come to use our collections.
The new building will feature state-of-the-art storage facilities, as well as a dedicated search room, public exhibition space and education room. The move will allow Lambeth Archives to better serve the community and provide improved access to its collections, which include a wide range of documents, photographs, maps, and other historical materials.
Visitors to the new venue will benefit from:
Enhanced research facilities: The dedicated search room will provide a comfortable and well-equipped space for visitors to delve into the collections and discover the rich history of the borough.
Improved accessibility: The new venue is located close to public transportation and has ample parking, making it more accessible for residents and visitors.
Interactive exhibitions: The public exhibition space will feature a variety of interactive displays and exhibits, showcasing the history and heritage of the borough in an engaging and informative way.
In January 2023, Lambeth Archives closed to the public at the Minet Library and we expect to open to visitors in the new building in summer 2023. In the meantime, you can find details of our interim services here.