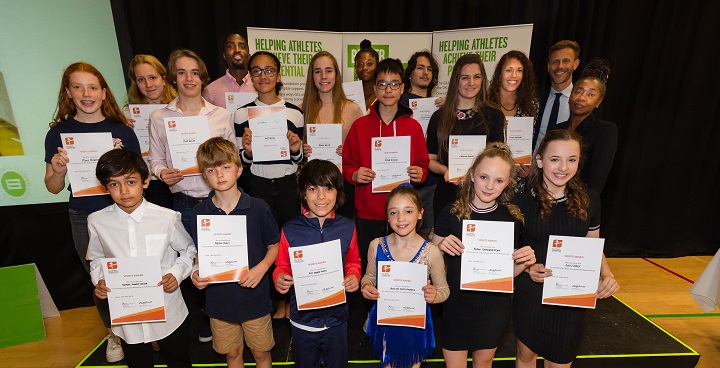 Streatham Ice and Leisure Centre hosted the second annual Lambeth GSF Sports Foundation Awards on 23 May with 18 athletes awarded a Top Up, Achievement, or SportsAid award.  The awards included £11,100 in cash awards and £48,600 in kind – equipment, training sessions and more.
Word from the Cabinet
Councillor Sonia Winifred, Lambeth Council Cabinet Member for Equalities and Culture, presented the athletes with their awards and said: "The Lambeth GLL Sports Foundation Awards in partnership with Lambeth Council Gifted and Talented scheme was a great celebration to showcase the successes of our young athletes in the borough. It was an honour to open the evening and to watch our supported young ice skaters performing on the ice rink."
Ice dance
The programme also included ice dance displays by national GSF champions, an opening speech by Cllr Winifred, an overview on GSF and partnerships by Sue Robinson, Community Sports Manager GLL, and local updates by Tom Edwards , Community Sports Officer.
Lambeth GSF Athletes
Flora Perkins, Lambeth GSF SportsAid supported cyclist, commented "The GLL sports foundation helps me to travel and compete around the country where I gain experience through racing. It also enables me to get equipment that helps me to perform the best that I can. It was great to go to the GLL awards evening this year and chat to other performance athletes from different sports and better understand their training and events."
GLL Sport Foundation
The GLL Sport Foundation was founded in 2008 by charitable social enterprise GLL, to provide talented athletes with financial support as well as access to training and sport science facilities. The awards were launched after GLL identified an increasing number of talented athletes who were receiving no sport funding and had given up on their sporting dreams through lack of support.  GSF-funded athletes won 20 medals at the Rio 2016 Olympic and Paralympic Games. This year, a total of 3,120 UK athletes will receive support worth a total of £1.8 million. The recipients are spread across 117 sporting disciplines.
Details of the Streatham Ice and Leisure Centre are available here.
Photograph shows: 
Back Row: Kirstin Harvie (Swimming, 16), Jonathan Ilori (Athletics, 25), Vwaire Obukohwo (Rowing, 17), Stefano Cataldi (Weightlifting, 15), Garnet Mackinder (Rugby, 27), Jeremy Lake (GLL Lambeth Partnership Manager)
Middle Row: Flora Perkins (Cycling, 15), Peter Nicoll (Ice Skating, 16), Faith Coker (Ice Skating, 14), Natalie Nicoll (Ice Skating, 14), Dylan Holicka (Ice Hockey, 14), Catherine Demont (Swimming, 28), Sonia Winifred (Lambeth Council Cabinet Member for Equalities & Culture)
Front Row: Sameer Sunder-Rajan (Fencing, 11), Hector Jones (Fencing, 10), Atl Ongay-Perez (Ice Skating, 11), Anouska Evans-Bayntun (Ice Skating, 10), Aimee Carrington-Fryer (Ice Skating, 14), Lois Cottey (Ice Skating, 13)