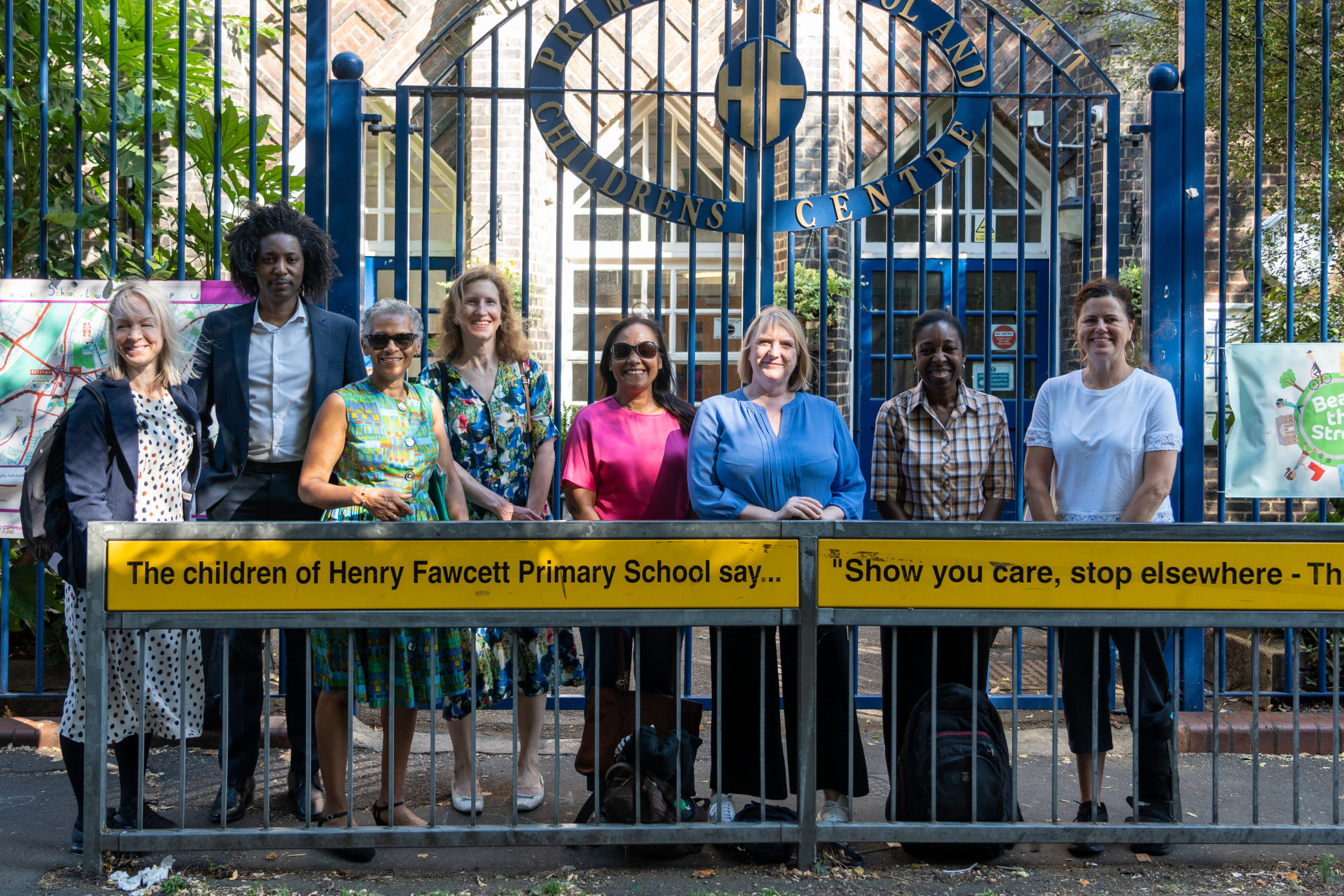 Cllr Claire Holland, Lambeth Council leader, joined Joanne McCartney Deputy Mayor of London for Children and Families on Thursday, July 14 at Henry Fawcett Primary School in Bowling Green Street, Kennington to discuss the progress made, and next steps.
School Superzones are set up as a 400 metre zones around schools where work is done to create healthier places for children, young people and their families to live, learn and play. Lambeth was an early adopter of the School Superzone pilot programme. They were first set up in August 2018 as a joint trial involving Public Health England, City Hall, London Councils and local authorities.
They aim to tackle health issues outside the school gates and beyond the reach of the borough's hard working headteachers. That includes pupils exposure to unhealthy fast-food takeaways, traffic fumes, betting shops, and air pollution. It is also often difficult for them to walk and cycle.
Cllr Holland said: "We all have a huge responsibility to create neighbourhoods where every young person can get a healthy start to life. In our borough, young people from the households with the least are often those more exposed to negatives in their local area such as polluted air, unhealthy food and dangerous traffic.
"These inequalities have been further highlighted and exacerbated during the Covid-19 pandemic and the impacts continue to be felt by those residents. As part of our efforts to recover from the pandemic and the further challenges we now face, Lambeth Council and its partners are redoubling our efforts to create a borough where all children can thrive, regardless of their background."
Henry Fawcett Primary School is within a Superzone cluster of seven Lambeth schools consisting of two secondaries and five primaries. The zone was identifies as one with high needs in a deprived area with high footfall. The council's public health team identified priority issues in partnership with the schools, including access to healthy food and drink, air quality, road safety and active travel, the London Living Wage and the price of alcohol.
Before the pandemic 75 per cent of the area's school population were eligible for the government Pupil Premium and it has a high rate of children with asthma. Local air quality monitoring shows that the area has dangerous levels of air pollution.
Examples of actions being taken in the Superzone include the installation of a water fountain and green barriers, a survey conducted with off-licences on alcohol minimum unit pricing, and business rate rebates for local employers signing up to the London Living Wage to boost household incomes.
Deputy Mayor for Children and Families, Joanne McCartney, said: "It was wonderful to visit Lambeth on Thursday and hear from teachers about how the School Superzone pilot is making a real difference to people's lives across the borough.
"The pandemic has exacerbated health inequalities and this initiative is helping to ensure children, young people and their families have the opportunity to live happier, healthier lives. The project, supported by City Hall, is just one of many steps we are taking to help build a safer, fairer, greener and more prosperous city for everyone."