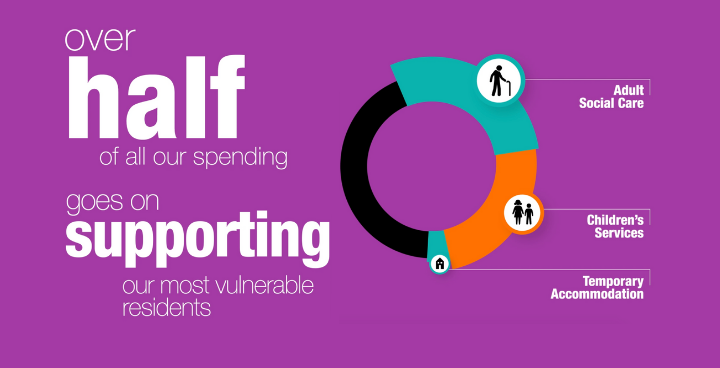 These are incredibly tough times, for everyone in this country, and Lambeth is no different.
Over the next few months, we'll be consulting on our Medium Term Financial Strategy (MTFS) – which is our budget plan for the next four years.
We want you to take part and tell us what matters most to you, what you see as essential services and where you think we could save money.
It is a massive challenge.
Like all local councils across the country, Lambeth is facing a massive financial challenge. In the past eight years, the money we get from government has been cut by more than half and we've had to reduce our spending by over £200m.
It hasn't been easy – our workforce has been cut in half, and we've reduced the number of council buildings from 14 to 2. We've had to scale back many of our non-essential services and we've tried new ways of doing things to save money.
But, even after having to make all those cuts since 2010, we now need to find another £43m of savings over the next four years. And that won't be easy either.
To put that into context, £43m is more than we spend each year on waste collection, recycling, parks, libraries, children centres, roads & pavements and community safety combined.
And despite these being the most visible council services, we actually spend most of our money on helping the most vulnerable residents of Lambeth – with Adult Social Care and looking after children.
But the demand for more spending reductions is not over yet. And the consequences of those enforced cuts will affect some of the most vulnerable people in our communities.
And that's why we want to hear from you. We need you to help us make decisions that are right for Lambeth – to help us identify savings and produce a balanced budget in the fairest way possible.
Together, we can protect the most vulnerable and keep Lambeth the thriving and dynamic borough that it is today.
Starting in November 2018, we'll be launching a series of consultations on our plans. Don't miss the chance to have your say. Sign up below.