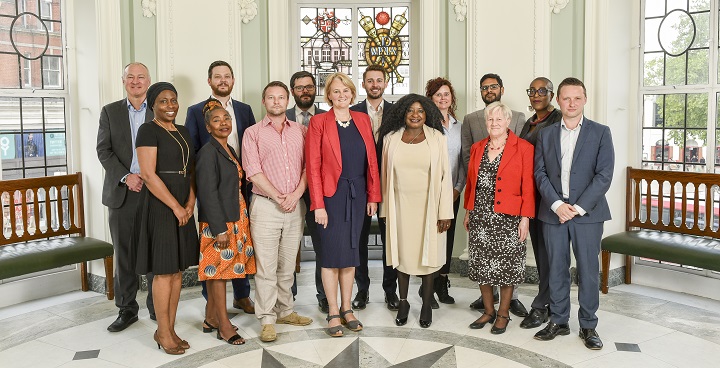 Following the local election on May 3, 57 Labour councillors were elected to the council, with five Green Party councillors and one Conservative councillor.
Therefore, the leader of the Labour group on the council, Cllr Lib Peck, will again be Leader of the Council, continuing from the last six years in the position.
A Cabinet has now been appointed to take decisions and guide policy across nine portfolios.
Cllr Peck said: "I'm delighted that the residents of Lambeth have put their trust in us and we are determined to repay that trust by continuing to deliver on the issues that matter to them.
"Our new cabinet has a great blend of experience, energy and diversity and we are all committed to working as hard as possible to make Lambeth better and fairer for everyone.
We have an ambitious agenda to reduce inequality, tackle the housing crisis and give young people the best start in life and we're looking forward to working with Lambeth residents to deliver it".
Lambeth Council Leader & Cabinet
Cllr Lib Peck – The Leader of the Council
Cllr Peck is responsible for setting the overall political and strategic direction for the council; acts as the lead spokesperson and manages external relations including with Government, the Greater London Assembly and local and regional bodies; as well as managing the council's relations with key stakeholders, partners and investors and holding the council's Chief Executive to account.
Cllr Jennifer Brathwaite – Deputy Leader (Children & Young People)
Cllr Jennifer Brathwaite is responsible for delivering our commitment to giving young people the best start in life. That includes children's services, powers and duties in relation to children looked after, and our commitment to improving the care of the borough's most vulnerable children and young people.
Cllr Jack Hopkins – Deputy Leader (Jobs, Skills & Performance)
Cllr Hopkins oversees the implementation of the Administration's manifesto commitments, core council strategies, including the Borough Plan and monitoring performance. He is also responsible for the council's ambitious agenda to increase jobs, skills and apprenticeships for Lambeth residents.
Cllr Matthew Bennett – Cabinet Member for Planning, Investment & New Homes
Cllr Matthew Bennett is lead member for planning and leads on economic growth, strategic infrastructure, regeneration and the delivery of new homes in the borough.
Cllr Edward Davie & Jacqui Dyer – Cabinet Member for Health & Adult Social Care (job share)
Cllrs Davie and Dyer are responsible for health and adult social care and work to ensure safe, efficient and effective services. Their strategic focus is to reduce health inequalities so that more residents enjoy longer, healthier lives. They are responsible for promoting public health in all polices, adult preventative healthcare, healthy lifestyles, preventing disease and improving general health.
Cllr Jim Dickson and Cllr Mohammed Seedat – Cabinet Member for the Voluntary Sector, Partnerships & Community Safety (job share)
Cllr Jim Dickson and Cllr Mohammed Seedat are responsible for leading on the borough's strategic partnerships, working with the voluntary sector, community hubs and forums to ensure our most vulnerable residents are protected and supported. Cllrs Dickson and Seedat will also lead on our work with the community, the police, our partners and the Mayor of London to combat crime in Lambeth. That includes youth violence, community safety, crime reduction programmes, tackling violence against women and girls and tackling anti-social behaviour and hate crime.
Cllr Paul Gadsby – Cabinet Member for Housing
Cllr Paul Gadsby is responsible for housing management services, including working with tenants and leaseholders, tackling homelessness and delivering decent homes for all tenants. He is also responsible for delivering the council's commitments to improving the quality and security of the private rented sector.
Cllr Claire Holland – Cabinet Member for Environment & Clean Air
Cllr Claire Holland is responsible for improving all aspects of the local environment so residents can enjoy a cleaner and greener borough. Cllr Holland leads on efforts to increase recycling rates and promote cycling. She will also be responsible for the borough's road maintenance programme, continuing the council's investment in repairing roads and pavements to make them safe for pedestrians and cyclists. She will also oversee action to tackle enviro-crimes such as fly-tipping, littering and spitting.
Cllr Andy Wilson – Cabinet Member for Finance
Cllr Wilson is responsible for oversight of the council's strategic financial management. This includes setting a balanced budget and monitoring the delivery of the capital investment programme.
Cllr Sonia Winfred – Cabinet Member for Culture & Equalities
Cllr Sonia Winifred is responsible for the strategic approach to Lambeth's rich and diverse cultural and tourism sectors. She is responsible for Lambeth's library services and for our maintaining our fantastic parks and open spaces.
Deputy Cabinet Members
Deputy Cabinet Members are responsible for working closely with the appropriate Cabinet Member, undertaking specific projects to drive process in these areas and deputising where agreed.
Cllr Ben Kind – Leading on Schools
Cllr Jane Pickard – Leading on Youth & Play
Cllr Tina Valcarcel – Leading on Disability