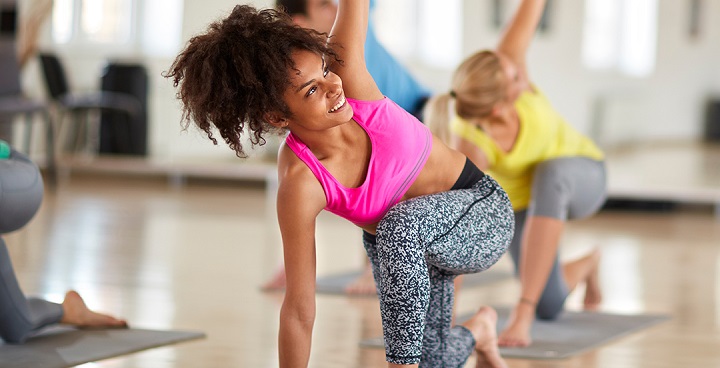 Celebrate 'International Yoga Day' at Clapham Leisure Centre on Tuesday 21 June 2022. This annual celebration recognises the physical and spiritual prowess that yoga has brought to the world stage.
Yoga is a mind-body workout that flexes and strengthens joints and muscles as you go. Did you know you can burn around 280 calories per hour in a standard session?
Benefits of yoga
 Build a stronger core and work your muscles from head to toe
Achieve a meditative state of mind and greater wellbeing
Relieve aching joints and muscles
Encourage your body's natural healing abilities
What equipment will you need?
The centre provides mats, blocks and other yoga equipment or you can use your own. Move comfortably in your yoga class by wearing light, stretchy and supportive clothing. A towel will be handy for those humid hot yoga sessions, and please bring a bottle of water with you – you can fill up around the centre.
What classes will be available to book?
We offer all customers and members an opportunity to try out a wide range of low-impact 'International Yoga Day' classes.
CLASS
TIME
DESCRIPTION
Power Yoga 
07:45 – 08:30
Fast-paced.  You move from one posture to another rapidly, linking your breathing to the different motions of your body.
Yoga BASICS*
09:15 – 10:00
With simpler movements & lower intensity, perfect for people starting their fitness journey, for older adults and anyone looking to build confidence.  Embrace the flow of natural body movements to develop strength, flexibility and peace of mind.
Ballet Fit
10:15 – 11:00
Blend of ballet moves, Pilates & strength exercises

help build a lean dancer-like physique.

Mindfulness*
12:15 – 13:00
Relaxing self-focused class. Experience guided meditations and understand the importance of being "Still".  Mindfulness is the basic human ability to be fully present, aware of where we are and what we're doing, and not overly reactive or overwhelmed by what's going on around us.
Yoga – Hatha
13:15 – 14:10
Embrace the flow of natural body movements to develop strength, flexibility and a peaceful state of mind.  From energetic routines to slow, serene sequences, Yoga classes balance movement and meditation to help you feel better inside and out.
Pilates
19:15 – 20:10
Gently train your physique and improve core strength in a calming, yet challenging atmosphere.  Pilates exercises focus on lengthening and strengthening muscles while challenging the core to build a revived and resilient you.
Yogalates
20:15 – 21:15
Motivating blend of Yoga, featuring Tai Chai, Pilates, and Mindfulness
*These classes are FREE TO BOOK but must be booked online or via the app. Terms and conditions apply
How to book?
You don't have to be a member to book World Yoga Day classes. Download the BETTER UK app, create an account, and book a class from your smartphone or tablet. Or book online or in the centre.
For more information
email Clapham@gll.org