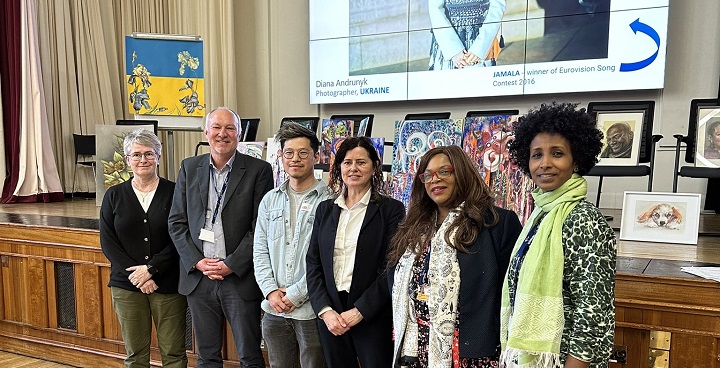 Lambeth Sanctuary Services hosted an event on Weds April 19 to celebrate and thank the hundreds of local residents who have opened their homes to Ukrainian guests fleeing the war in their homeland.
Word from the Leader
Cllr Claire Holland, Leader of Lambeth Council, welcomed the Ukrainian guests and their Lambeth hosts, saying:
"Lambeth has a history of welcoming people from all over the world and I'm honoured that our residents chose to continue this tradition. As London's newest Borough of Sanctuary, it's heartening to know that our residents share those values.
"We recognise the terribly sad circumstances that have brought people from Ukraine to Lambeth, but tonight is about celebrating our guests with a showcase of Ukrainian talent and thanking the wonderful residents of Lambeth.
"Our residents have welcomed over 560 guests since the Homes for Ukraine scheme started. And today, some 315 guests are still living with their Lambeth sponsors. At a time when many families have their own struggles to make ends meet, it's a true demonstration of the kindness and hospitality of our borough."
Word From the Cabinet
Cllr Jim Dickson, Lambeth Cabinet Member for Healthier Communities and Co-Chair of Lambeth Sanctuary Forum, said:
"While it's hard for most of us to imagine the journey that brought you here, what is clear is the resilient spirit you have arrived with. We hear stories every week of people securing jobs and applying their many skills and talents in new careers, successfully moved into independently rented homes.
"I'm happy to say that Lambeth has the highest success rate of maintaining sponsorships  in London, to the point that we have been invited to share best practice nationally so other local authorities can learn from us.
"While some of that is down to our hardworking Homes for Ukraine team, I believe it is a lot to do with the compassion of our sponsors and the lengths they have gone to to make our guests feel welcome. Sponsors have been the cornerstone of this innovative new scheme, which has demonstrated the potential for sanctuary-seekers to flourish when given adequate support and we hope in the future that all sanctuary-seekers will receive this."
More information