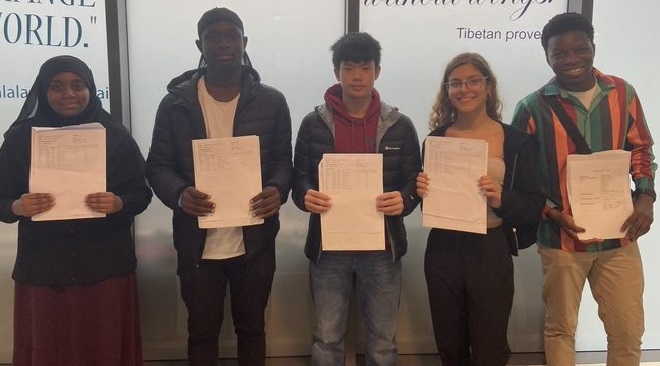 Despite the challenges many of the pupils at E-ACT City Heights Academy in Abbots Park, Tulse Hill, based within the St Martin's Estate and close to Tulse Hill Estate, were celebrating after getting their marks alongside delighted school staff. At the school 98 per cent for pupils go onto further studies.
Studying hard
Among them was Chosen Aligbe, 16, from Tulse Hill who said: "I feel I've done well today. I've taken eight subject and passed them all including four As, which is what I was expecting because I worked hard for it. I came in early most days to revise by myself and in the evening before bed I'd refresh my studies of day.
"I'm motivated because of the way of learning I picked at boarding school in Nigeria. I came to UK last year and am very happy to be here. I'm going to sixths form to study science, maths and computer science at to go to university from there."
Head Girl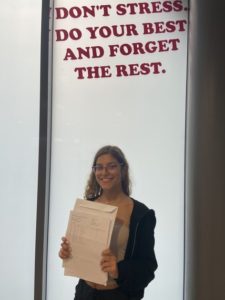 Cecilia Santos, 16, is head girl at the school, a role which she said which involves representing the school at events like parents evenings and giving pupils a voice in the running of the school. The Crystal Palace resident who moved to the UK from Portugal when she was eight-years-old was delighted with her three A-star and seven A grade results.
She said: "I feel that I've done really well done today and I'm pleasantly surprised. I revised a lot and have studied hard, with lots of late nights. My parents really respect my space and make special quiet time so I can really focus on my studies. I'm going to study a levels, maths, Spanish, history and maybe economics A-levels next. I would like to get into accounting or finance careers, but I'll see how it goes."
Brilliant grades
Azzizah Ibrahim, 16, from Tulse Hill found out on results day that she had get five A-star and four A grade GCSE results. She said: "I'm surprised how well I've done. I studied hard, but you never know how the marking going to go. I was well prepared, I studied since year 11 started and a month before the exams I really focussed using the revision guides taking notes and reading every page.
"I did periods of having to study from home, but I didn't mind because I felt like I could really focus. This school has improved so much and I'm so grateful for the support I've got from all the staff here. My parents were waiting outside the school this morning for my results, and were so happy and shocked at how I've done.
"I've always wanted to been a doctor, and I hope this is a good first step on that path."
Ambitious future
Vincent Lam, 16, from Tulse Hill secured one A-star, seven As and one B grade is his results. He said: "I'm pleased with my grades, but that's from putting the work in. I feel like I managed to adapt during Covid-19 when we were studying from home, although there were pros and cons.
"It's been good at this school and our headteacher has made so many positive changes. I plan to do A-levels at Dunraven in Streatham next and then want to go to university. I'd like a career in computing or engineering."
Proud headteacher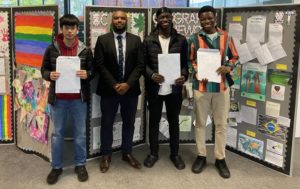 E-ACT City Heights Academy E-ACT City Heights Academy headteacher Errol Comrie who has been in the role for two-years and was born in Lambeth joined excited pupils for the results collection on Thursday morning.
He said: "I've been in this role for two years and we are all focussed on giving the kids the best possible education so they have the best possible life chances. From here our pupils go onto college and sixth form, more than 98 per cent go on to do further studies.
"I feel proud today on GCSE results days. The kids have worked hard to bounce back from the effects of the pandemic and proved that resilience and a positive mind set can secure great results.
"We have worked hard to support them to take these exams and so many have really achieved. We are mindful of every child here, regardless of their results and we are optimistic for their future."
The school, where 55 per cent of pupils on free school meals, has only been open for eight years and was rated as 'Good' by Ofsted inspectors in September 2021. In total 600 pupils aged 11- to 16-years-old attend the mixed gender school where around 25 per cent of the intake have Spanish as their first language.
Word from the Cabinet
Cllr Ben Kind, Lambeth's Cabinet Member for Children and Young People said "We are very proud of all Lambeth students who have completed their GCSEs this year.
"All our pupils and their support systems, including schools teachers and families, deserve huge congratulations for all their hard work. This is especially true considering it has been a tough couple of years due to school disruptions caused by the Covid-19 pandemic.
"The next chapter is an exciting one, with young people getting one step closer to their future and chosen careers. I wish them a huge amount of success in whatever journey they decide to take, be it continuing in education, going into an apprenticeship, or starting work."
Full GCSE results for the borough will be published in due course.