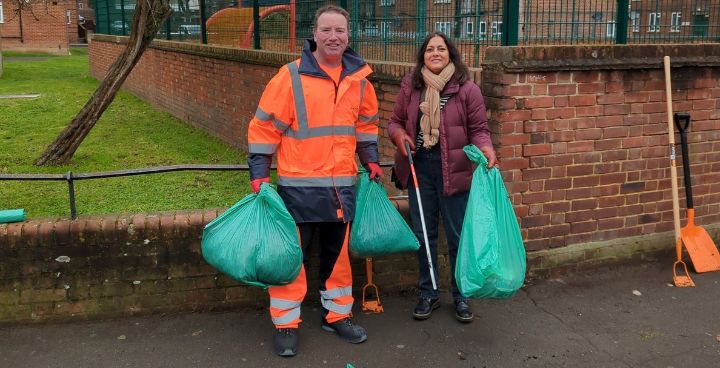 Lambeth Council held its Environmental Action Week from March 6-10 which saw council's crews partnering up with local resident volunteers to do a deep cleaning and weeding on estates across the borough. The teams were out focusing on one neighbourhood each day of the week.
The council also had extra staff out in Lambeth town centres removing graffiti, tackling fly-tipping, cleaning public litter bins, and washing pavements, with a focus for the activity on Brixton, Clapham, Norwood, Streatham, and Waterloo.
Residents' involvement
The aim of the Environmental Action Week is to ensure the council is working alongside the community to improve our neighbourhoods, and to highlight the actions local people can take to help tackle climate change.
Cllr Rezina Chowdhury, Cabinet Member for Sustainable Lambeth & Clean Air, joined efforts at the William Bonney Estate in Clapham and emphasised the importance of climate action.
She said: "Environmental Action Week is a great opportunity for the council and the community to come together and take action. By cleaning up our estates and town centres, we are not only improving the appearance of our neighbourhoods, but also reducing our impact on the local environment.
"I would like to thank everyone who volunteered their time and effort, and I encourage others to get involved in future similar activities."
The council plans to continue its efforts in tackling climate change and improving the environment through future initiatives and programmes. The Environmental Action Week was just one of many initiatives that Lambeth Council has undertaken to promote sustainable living and reduce the borough's carbon footprint.
Estates cleaned during Environmental Action Week also included St Matthew Estate in Brixton, Dunbar Dunelm Estate in West Norwood, Palace Road Estate in Streatham and Briant Estate in Waterloo. The council plans to continue working with residents to improve their estates and reduce their environmental impact.
As a resident of Lambeth, you too can get involved in community-led initiatives to improve your neighbourhood and reduce your environmental impact. Volunteering for events like Environmental Action Week is a great way to meet like-minded people and make a positive difference in your community.
What you can do
There are also a range of things you can do at home to reduce your carbon footprint and live more sustainably. These include:
Recycling as much as possible, including food waste
Reducing your energy consumption by turning off lights and appliances when not in use
Using public transport, walking or cycling instead of driving
Switching to energy-efficient light bulbs and appliances
Installing a water meter to reduce your water consumption
Together, we can all do our part to tackle climate change and create a more sustainable future for Lambeth and beyond. For more information visit our Climate Action Plan website