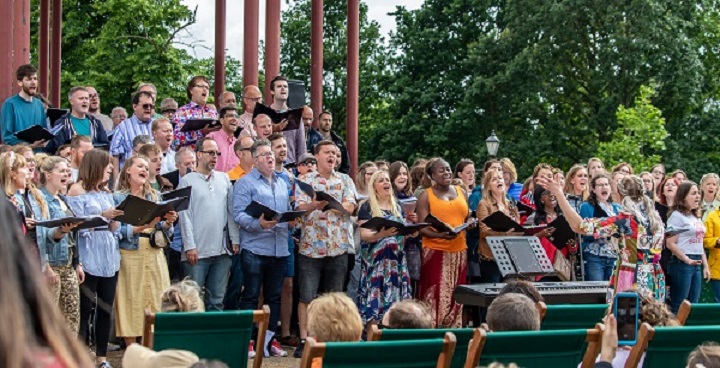 Clapham Common's historic Bandstand, the largest bandstand in London, hosts concerts every weekend from Saturday 24th July until Sunday 22 August. All concerts are free to all, supported by a grant from Lambeth Council. All concerts start at 2pm and end at 4pm.
Word from the Cabinet
Cllr Sonia Winifred, Lambeth Council Cabinet Member for Equalities and Culture, said: "Lambeth is delighted to support this series of concerts with a grant. Building on the success and popularity of previous years, this series of concerts offers a diverse mix of musical styles. It's a showcase for the talent living and working locally and reflecting the community in which we live. There's something for everyone, ranging from Afro-Cuban to classical and pop and local community choirs, with performances from traditional brass bands to up-and-coming singer-songwriters."
The concert programme
Saturday 24 July – Putney & Wimbledon Brass Band – 2pm-4pm
Sunday 25 July – Real Voices – choirs of Battersea, Brixton, Clapham, Crystal Palace, Tooting and Vauxhall – 2pm-4pm
Saturday 31 July – Los Domingos – 2pm-4pm
Sunday 1 August – The Crooks Saxes – 2pm-4pm
Saturday 7 August – London Consorts of Winds – 2pm-4pm
Sunday 8 August – Lambeth Wind Orchestra – 2pm-4pm
Saturday 14 August – Sonnet Wind Orchestra – 2pm-4pm
Sunday 15 August – The Fabulous Honeys – 2pm-4pm
Sunday 22 August – Academy of Contemporary Music of London – 2pm-4pm.
More information
See Event Lambeth Facebook for details of who is performing for the next five Saturdays and Sunday afternoons. Follow CCMAC in Instagram is @claphamcommon Twitter is @clphmcommonMAC
COVID-Safe Concerts
CCMAC wants everyone to feel safe while performing and watching the bands, choirs and orchestras. The Bandstand is in an open and well-ventilated outside space. All acts who are singing have to take a COVID-19 test before performing. We will also lay out deckchairs spaciously around the Bandstand. We also ask that anybody who has COVID-19 or its symptoms remains at home. Be safe, be sensible.
Technical support for the Bandstand Concerts is supplied by Clapham's Omnibus Theatre.