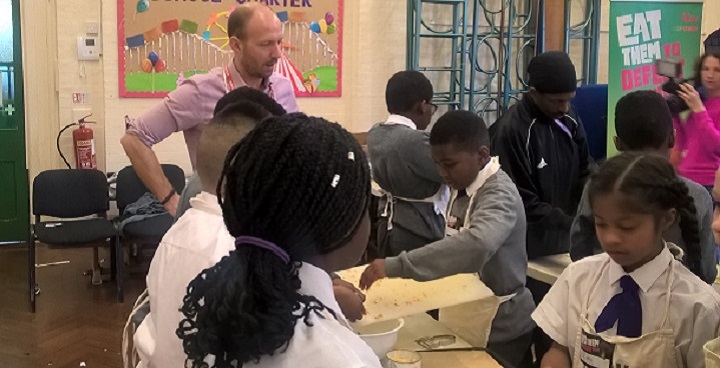 Councillors Edward Davie and Jacqui Dyer, joint Cabinet Members for Health and Adult Social Care, joined vegetable cookery classes in local schools as part of the Eat Them to Defeat Them Campaign supported by Lambeth Council.
Healthier eating in Lambeth
Only half of Lambeth's 15-year olds eat the recommended five-a-day fruit and vegetables. The Council is in partnership with local schools and VegPower on the Eat Them to Defeat Them Campaign, inspiring 7-11 year olds to love veg and create healthy habits that last into adulthood.
Word from the Cabinet
"The habits we form as children can last a lifetime," said Councillor Dyer, as she tasted baked vegetable samosas prepared by students. "Now these kids know that vegetables taste great, and are easy to prepare. We hope they will take this knowledge home to their families, and make vegetables a bigger part of their regular diet."
"This is a fantastic opportunity for the children of Lambeth to become more familiar with different veg," said Cllr Davie, visiting a class at Richard Atkins Primary. "They are learning skills needed to prepare vegetables, as well as cook them, and becoming more confident at trying new things."
Cook School
Cook School is part of the partnership, with children in Key Stage 2 learning recipes showcasing veg, and taught the skills to re-create them at home. 3,000 Lambeth schoolchildren have trained to cook with vegetables by Cook School. Many schools used portable ovens provided by Lambeth Council, paid for by sugar tax revenue
Eat them to defeat them
Lambeth schools have pulled out all the stops with vegetable-themed activities: making veggie monsters, holding veggie assemblies, and hosting taster sessions for children, as they compete to win £1,000 for the school doing the most to get students excited about veg.
Vegetable Invasion hits Brixton
On 6 April vegetables invaded Brixton for a Family Fun Day in Windrush Square, inspiring children to eat and defeat their veg. Cllr Davie said: "We all know vegetables are good for us, but sometimes think they're boring. Our vegetable invasion is a chance to find out that there's more to this story, to dispel some myths and help make sure we are all eating well. Let's all get together and give veg the love it deserves."