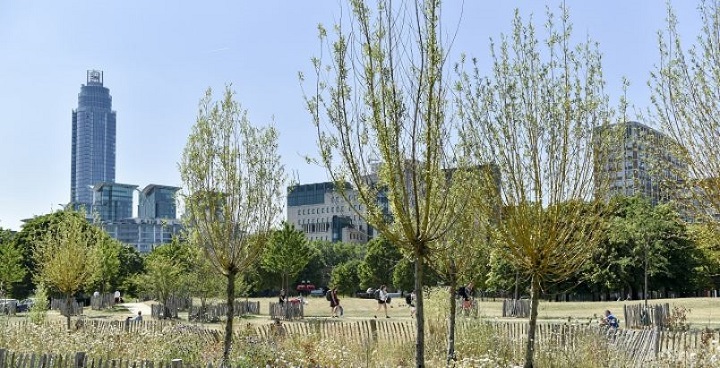 CIL is charged on plans for new developments includes one or more dwellings or, if it is not a residential development, where it includes 100 sq. m of new-build floor space. Different types of development – such as homes, hotels and offices – are charged at different rates. Lambeth's CIL 'map' is divided into three geographical zones, with different rates applying in each.
Have your say on our proposals now at Lambeth's Community Infrastructure Levy consultation page.
The Council has started allocating the money received through CIL since 2014 and, by June this year, the cash had already contributed £9.1m towards infrastructure projects throughout Lambeth. It helped pay for projects including works at Brixton Market, Brockwell Hall, Loughborough Junction and support for Vauxhall Park and the Windmill Education Centre.
The "Neighbourhood CIL" has provided almost £500,000 in grant funding to youth groups, while projects including "Young Lives Matter" have also benefitted from the programme. Lambeth is now proposing to raise the rates of CIL across the board to maintain – and extend – the benefits the 'developer tax' provides for the community.
A report to the council's cabinet explained that: "The increase is necessary to keep up with the increase in land values in Lambeth and capture as much planning gain as might be possible without deterring development and to meet wider planning policy objectives."
The proposed changes would also establish four CIL zones – rather than three – with Brixton and Herne Hill having its own charging zone separate from the charging zone for Streatham and West Norwood.
Cllr Matthew Bennett, Cabinet Member for Planning, Investment and New Homes, said: "It's been four years since we introduced our first rates for CIL. Although many people claimed these rates would stall development and investment in the borough, they haven't: in fact, we've been able to raise over 20m from private development for key infrastructure and local investment.
"As we promised in our election manifesto, we're now proposing to increase the developer tax to raise more and to invest more across the borough.
"Taken together over the period 2020-25, which is when these rates would kick in, the extra money raised would bring in a further £28m – above and beyond what we were already anticipating.
"This means that, if the level of development plays out as we expect, then we'd raise just over £73m over that period to invest in the local community."
Cabinet members agreed to authorise the first round of public consultation on the Preliminary Draft Charging Schedule, which includes the proposed new CIL rates. The CIL consultation will be held simultaneously with the public consultation on the Local Plan and Transport Strategy, from 22 October until 17 December this year.
---
Have your say on our proposals now at Lambeth's Community Infrastructure Levy consultation page.
The consultation closes at 11pm on 17 December 2018.