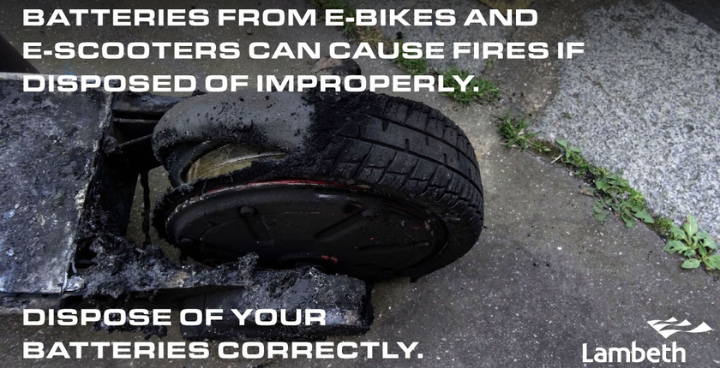 When the lithium batteries found in e-bikes and e-scooters are damaged or their cells compromised in the compacting process of waste collection, they can ignite surrounding waste, posing a serious fire risk. These fires can put waste collectors, operational staff and local people in danger.
For more information on this danger and advice from the London Fire Brigade on e-scooter and e-bike batteries can be found at lambeth.gov.uk.
Most e-bike and e-scooter batteries have a minimum two-year guarantee on them so if they deteriorate or break in that time you can get them replaced for free under warrantee at place of purchase. If the battery breaks after that time they can still be returned to the seller or manufacturer for recycling, but may need to be bought again.
They must not be put in rubbish or recycling bins and they are not currently accepted them Lambeth's Reuse and Recycling Centres. However Lambeth residents can bring broken e-bike/e-scooter battery to one of the following local drop-off points:
Halfords (Brixton) / Unit B Effra Road, Brixton, London, SW2 1BZ
Evans Cycles (Clapham) / Unit 2, 65 Clapham High Street, London, SW4 7TG (limited capacity)
Decathlon (Surrey Quays) / 9 Maritime Street, London, SE16 7FU
The council's service for households with wheelie bins under which old broken small electricals and household batteries (excluding e-scooter/e-bike batteries) can be recycled remains in place. Household batteries can also be returned to the seller. For more information on this and options for people who live in blocks of flats visit lambeth.gov.uk.