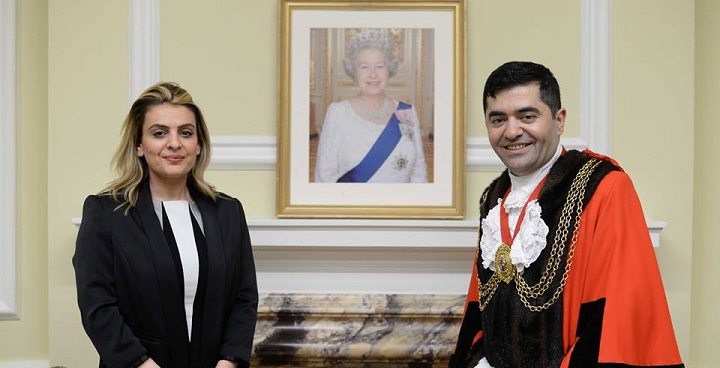 The new mayor is an Anglo-Kurdish restaurateur born in Turkey in the 1980s who came to London in the 1990s. Since migrating he has learnt English from scratch, and developed a thriving small business.
To reflect his roots Cllr Dogus has chosen the Migration Museum in Lambeth and the Lambeth Welcomes Refugees group as the charities he will fundraise for during his year in office.
Proud
Cllr Dogus said: "I'm really proud to be the Mayor of Lambeth, it's a great moment. I have been deputy mayor of the last year so have been watching and learning from the previous mayor, Cllr Wellbelove.
"I was born into a Kurdish refugee family and came to the UK when I was 14-years-old, so I've been through difficult life experiences.
"Now after 24 years it's amazing to become mayor of the borough where I live and work, and where my children are growing up. Now I want to draw attention to lots of the issues that people like me have been through.
"I have chosen charities that are supporting people that have been through, or are going through similar experiences to my own. I want to highlight the contribution of migrant communities to Lambeth and emphasise what an important role they play in what makes Lambeth great."
Cllr Dogus, 38, who is married with two children, represents Bishops ward having been elected as a councillor in May, 2018. He lives in Vauxhall.
His family originated from the Kurdish region in southern-eastern Turkey. The Kurds are an ethnic minority in the country and have been subject to ongoing persecution.
Cllr Dogus's father claimed asylum in 1991 and was granted refugee status. The Home Office allowed the rest of the family to join him in the UK in 1994.
'Opportunity to give back'
Cllr Dogus said: "It was a really difficult time. We had to keep moving home in Turkey because of my father's political activism and issues that the Kurdish community face there.
"Before leaving we were never living in one town for long, we had to keep moving for our own safety. Since leaving we have been able to settle in London and has been our home now for the longest time in our lives.
"Lambeth and London have given us so much. So becoming mayor is my opportunity to give back."
For more information on the Migration Museum please visit https://www.migrationmuseum.org/
Lambeth Refugee Welcome is a group of volunteers that support refugees by helping provide and furnish homes for the families, befriend families once they arrive  and provide ESOL support where needed.
For more details on the Mayor making visit https://moderngov.lambeth.gov.uk/ieListDocuments.aspx?CId=142&MId=10519