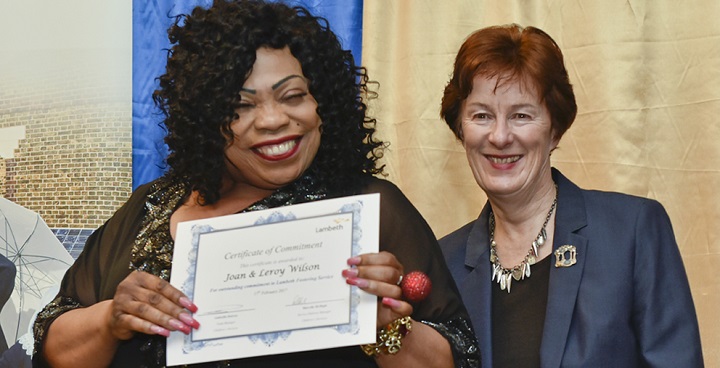 Mrs Wilson has been a foster carer employed the council since April 1994 with particular success at helping children with the highest needs, including those with learning difficulties and challenging behaviour, while also working as a mentor to other foster carers in the borough.
Mrs Wilson said: "I am delighted to have been awarded this MBE. Being a foster carer has been an incredibly rewarding experience in so many ways, so to be honoured in this way was really unexpected."
Together with her husband Leroy Wilson and her son Dimetrio the family, who are of Caribbean origin, have fostered more than 50 children at their home in Crystal Palace, many of whom have been between 14- and 18-years-old.
Word from the Cabinet
Cllr Jennifer Brathwaite, Deputy Leader of the Council, said: "I want to thank Mrs Wilson and her family for the incredible work they have done for our community. She is incredibly deserving of this honour for the many long hours of care, over many years that she has put in.
"Many of the children she has fostered have suffered disrupted starts to life at a time when a child craves stability. Many been hard to place due to their age, behaviour and background. Mrs Wilson and her family have done so much for these children.
"Her positive outlook, determination and compassion have had a huge impact on so many children, and should be an example to us all."
Outstanding Achievement Award
Mrs Wilson has previously been honoured by Lambeth council who in 2017 presented her with an Outstanding Achievement award in February 2017.
The children she fostered have also paid tribute to her work, including a statement from one former looked after boy who said:
"God knows it was a dark time for me mid 90s. You did soo much for me in my teen years growing up. You showed me that if there was something I wanted I have the love and power in me to go and get it. You showed me to never turn my back on people who truly need help, especially children.
"You took me in as part of your family and for that I am forever grateful. I found my voice that I used to bottle up. I don't think any other foster carer could have made the difference you made to me."
For more information on fostering and adoption in Lambeth visit https://www.lambeth.gov.uk/fosteringandadoption.