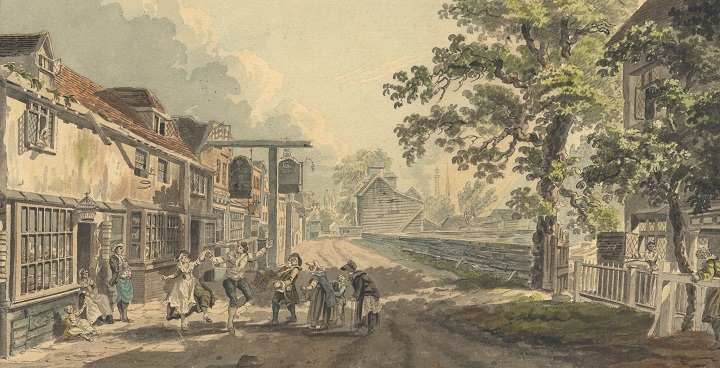 Lambeth Archives has worked in partnership with local historical societies and experts  to create a month-long programme  bringing Lambeth's history to life. Lambeth Heritage Festival features a month of talks, films, music, exhibitions, walks and workshops on every aspect of local life.
Places and people
Themes include a Sense of Place, Bricks and Mortar, and People and Communities. The  'People' range from writer John Ruskin (it's his 200th anniversary) to barrow boy Buster Martin. The 'Bricks and Mortar' will be featured in walking tours including Lambeth Palace, West Norwood Cemetery (pictured) Brixton Windmill and Grade II listed Henry Tate's House in Streatham gardens. The 'Sense of Place' takes in Lambeth's lost stations and hidden rivers, as well as the history of Vauxhall Pleasure Gardens, Ruskin's Herne Hill, the Brixton that was never built (see artist's impression below), and Van Gogh's house.
Word from the Cabinet
Cllr Sonia Winifred, Cabinet Member for Equalities and Culture said: "Preserving our heritage and using it to help connect local people with the opportunities and challenges in Lambeth today is something that I am passionate about and so I am really excited that once again Lambeth Archives has worked with the Lambeth Local History Forum to put together such a rich and innovative programme with the help of the Walcot Foundation.
Showcase
"This year's festival is big, with over 60 events to choose from. I'd particularly like to welcome all new participants this year including Layers of London and the San Mei Gallery. Lambeth Heritage Festival really does showcase some of the best things that are  taking place in Lambeth, and I look forward to celebrating our borough with you."
Lambeth local history fair
Lambeth's month-long heritage festival launches with a free, all-day local history fair at Brixton Library.  It Includes dozens of local societies and local history organisations with illustrated talks, tours and walks, bookstalls exhibitions and refreshments  Features:
Archiving black history.
History of the Town Hall site.
Local Black Edwardian writer ABC Merriman.
Radical politics 1790s to 1930s.
More information
For a full day-by-day guide to what's on where, and when, where to meet to start guided walks, how to book tickets and more, read the Lambeth Heritage Festival Guide online or download a copy (cover image of Lower Marsh shown at top of page).