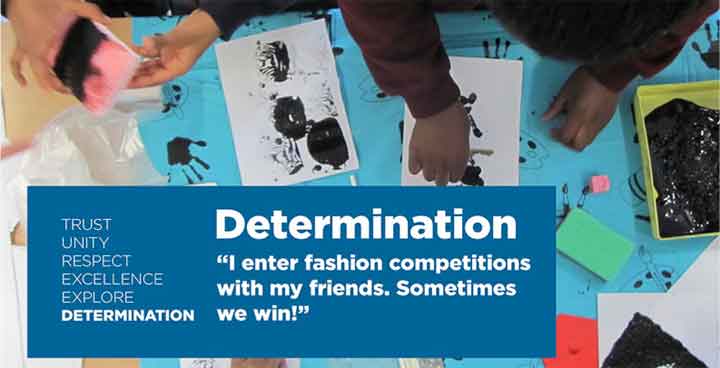 Hitherfield Primary School, Streatham, recently commissioned several of our designers to use the collaborative Made in Lambeth approach to produce new materials  for the school.
This meant an action-packed day working alongside Year 6 pupils, running a series of activities around the school's six core values: Respect, Explore, Excellence, Unity, Trust and Determination.
These activities ranged from the physical, such as building things together, to the sense of the importance of working together as a team and everybody playing a part for the success of the whole group. We got creative; pupils were presented with unconventional objects to make various marks, which required imagination and determination to create a series of effects. We also found out how each pupil related individually to their environment, their curiosity and ability to share their findings with others.
The overall aim was to give the school a range of designs that truly had been developed from the school, rather than for the school. In doing so, it would give pupils more ownership and greater connection to the school.
Assistant headteacher Tom O'Flynn, who decided to use the Made in Lambeth team, was happy with the day's work and the subsequent designs that it informed. He said: "The whole process was really positive and has help us immensely to start to embed our values into school life."
What do you think? Could this approach work in your school?
Get involved with Made in Lambeth
Made in Lambeth hold offline events, getting people into a room and not letting them out until they've completed the challenge at hand! (well, not strictly true).
The next event, on Tuesday 30 June is to help launch the Street Champions initiative across the borough.
More information here.
Made in Lambeth: the story so far
10 events, working on 18 initiatives.
4,000 hours volunteered.
75 per cent rate events as good or better.
Participants attend to develop their skills, meet like-minded people, and find new opportunities to collaborate.