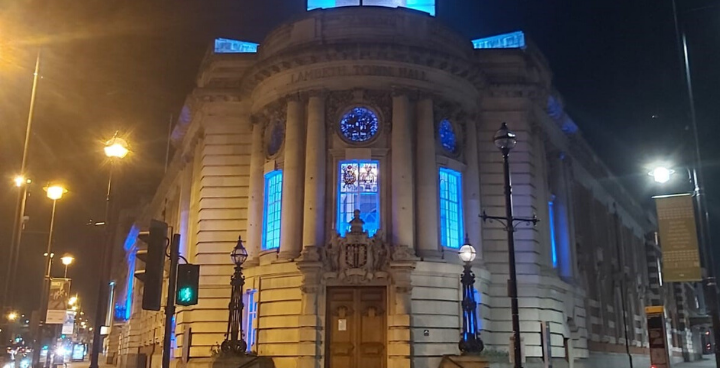 To hail the occasion Lambeth Council will join the nation to clap for carers, and we're encouraging our residents to get involved by saying #ThankYouTogether at 5pm on Sunday, July 5. We'll also be lighting up Lambeth Town Hall blue from 7pm on Saturday until dawn on Monday to commemorate the commitment, courage and sacrifice shown by so many professionals and unpaid carers.
Together
On Saturday, July 4, the day before the birthday, we will be holding a minute's silence at 8pm to remember, reflect and pay our respects to those who sadly lost their lives during the Covid-19 pandemic. This is being led by the Together Coalition who are also encouraging people to light an LED candle, lamp or torch in their window.
Word from Cabinet
Cllr Jim Dickson, Lambeth's Cabinet Member Health & Social Care, said: "This year has been one of the most challenging in the entire history of the NHS and care sector so we are determined to take this opportunity to recognise, reflect and remember.
"Residents of our borough have made incredible sacrifice on the front line of the NHS in the fight against the Covid-19 pandemic. We are taking the time to salute their efforts and to say a huge thank you. At the same time, we must be aware that the health challenge presented by the coronavirus hasn't gone away.
"Our colleagues in the NHS, in public health  and social care continue to work incredibly hard to treat and care for people, to protect the vulnerable and to plan for the next steps in our battle to keep the virus at bay."
More information
To get the latest NHS information and advice about coronavirus visit www.nhs.uk/conditions/coronavirus-covid-19