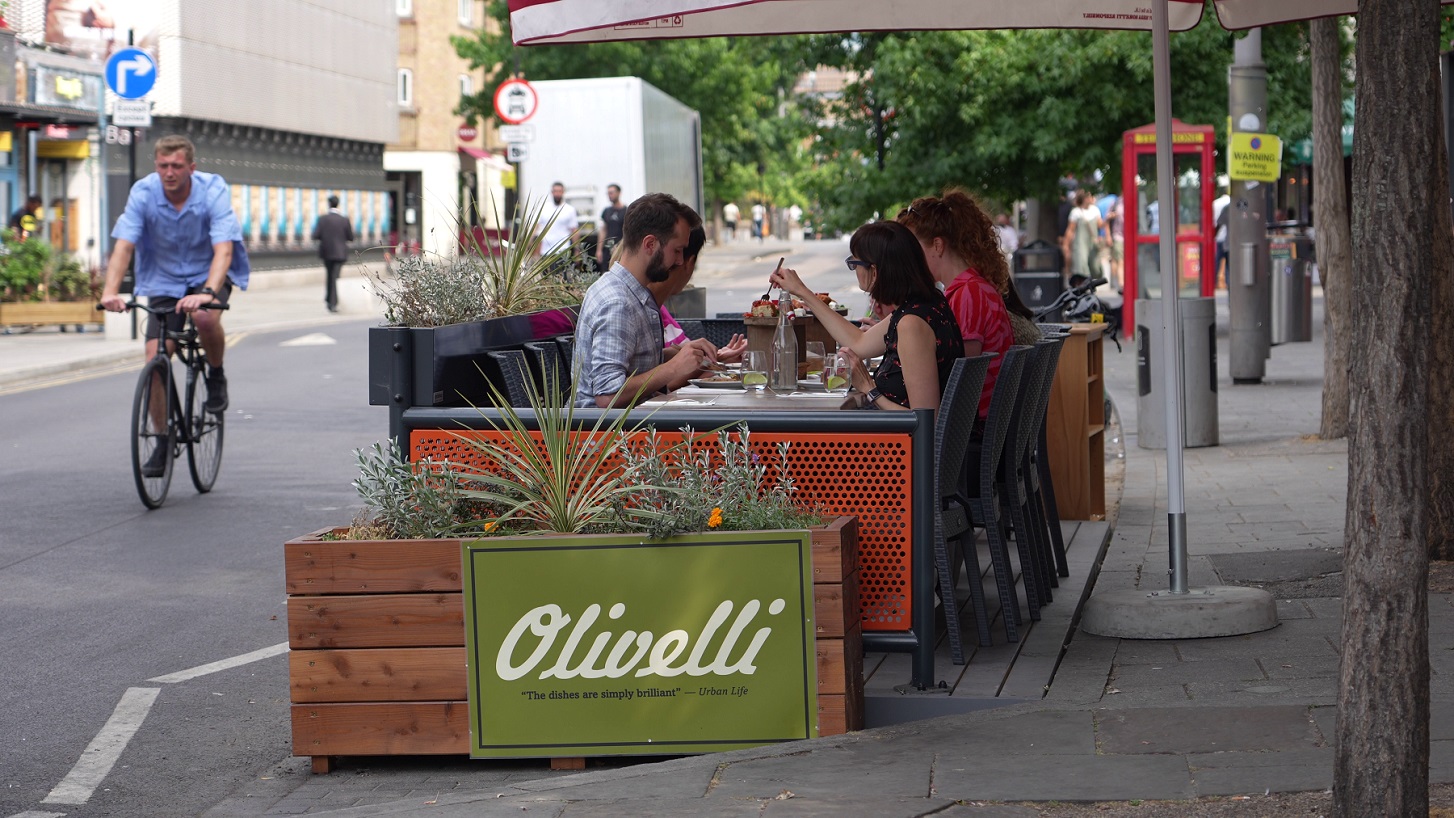 The Kerbside is commonly known as the part of the road where cars are parked and is the largest public space controlled by Lambeth Council with an area equivalent to 1,158,000m2 – or 194 football pitches.
The Kerbside Strategy will commit Lambeth Council to reclaiming at least 25 percent of this space from vehicle parking and introduce sustainability measures to fulfil a key pledge set out in the Climate Action Plan (CAP).
Cllr Rezina Chowdhury, cabinet member for Sustainable Lambeth and Clean Air, said: "This is a landmark strategy and one of the first of its kind in both ambition and scope, which will ensure the shared kerbside is used for everyone's benefit and not just for those wanting to park their cars.
"It commits the council to reclaiming public space to be enjoyed by everyone in Lambeth, while also addressing the very real challenge of the climate crisis.
"Kerbside space is at a premium with large swathes taken up by parked vehicles, while our pavements can be cluttered and difficult to navigate for everyone else. We need this to change so people have more equal access to this important shared space."
Around 94 percent of the kerbside is currently taken up by parking spaces for motor vehicles, despite Lambeth having one of the lowest car ownership rates in London – with just two in five households owning a motor vehicle.
The Kerbside Strategy outlines four priorities that will be applied to every street in the borough to enable accessible and active travel, create social spaces, increase climate resilience, and reduce traffic and emissions.
It will allow for the Sustainable urban Drainage Systems (SuDs) to reduce flood risk, plant new street trees, and create green spaces to provide shade on the hottest days of the year.
It would also mean a much more diverse kerbside with new shared scooter and bike bays, electric vehicle charging points, cycle hangers and support for businesses using cargo bikes and electric delivery vehicles.
Reclaimed kerbside space would make way for the largest community parklet programme in the capital to provide more green space for people to meet and socialise.
Cllr Chowdhury added: "We need people to feel confident walking, cycling, wheeling or scooting in our borough and we need our kerbside to support as many people as possible to do this."
"The strategy will create social spaces including London's biggest community parklet programme so people can enjoy their neighbourhoods without them feeling dominated by parked cars.
"It will allow us to implement climate resiliency measures such as sustainable drainage systems to address flood risk, and more trees and green space to provide shade during the hottest days of the year. At the same time more green spaces will help to make our streets more inviting places to be in"
"The Lambeth Kerbside Strategy is one of the most ambitious of its kind and will ensure we continue to show how to offer local solutions to the climate crisis, while making our borough healthier and more equal."
Seb Dance, Deputy Mayor for Transport, said: "It's fantastic to see the unveiling of Lambeth's ambitious Kerbside Strategy. This bold plan will reclaim 25 percent of the kerbside from parking spaces and enable accessible and active travel, create social spaces, increase climate resilience, and reduce traffic and emissions across the borough.
"Commitments like these are crucial to tackling the challenges of air pollution, the climate emergency and congestion. They will also help to build a safer, greener and healthier London for everyone."
Kate Langford, Programme Director of the Health effects of air pollution programme at Impact on Urban Health, said: "Air pollution has devastating effects on people's health in London. It is the single biggest environmental risk to health, and disproportionately affects children, older people, and people with health conditions.
"People on the lowest incomes in Lambeth are more likely to walk or use public transport. It's unfair that those who can't afford to drive are disproportionately affected by toxic fumes from by cars.
"This Kerbside Strategy from Lambeth will help address a major source of poor air quality: traffic."