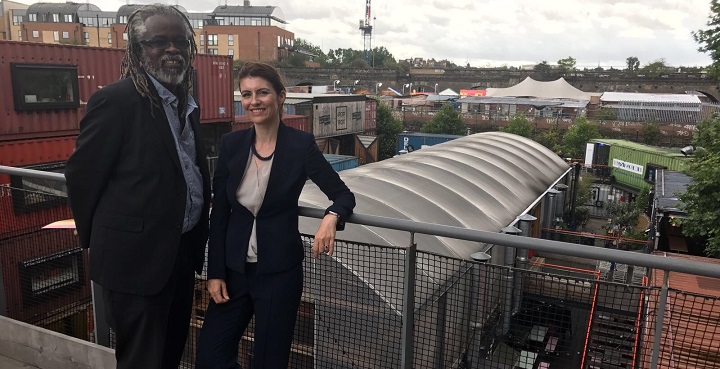 Business rates
The fund is in response to the very large increases in their business rates for many Lambeth businesses that were imposed by the government in April as part of its 2017 revaluation.
Average rateable values (which are used to calculate business rates) in Lambeth have increased by 35% which is the 4th highest increase in the UK.
Fair and transparent
The impact of this increase on local businesses is expected to be severe and the council led the campaign alongside the borough's businesses to challenge the government over the huge hike in business rates.
As a result of the campaign, alongside London-wide business groups, Lambeth Business Improvement Districts, the Mayor of London and other London boroughs, the government decided to allocate additional discretionary funding to Local Authorities to provide a new 'Hardship Scheme'.
The council has worked hard with Lambeth BIDs, the Federation of Small Business and the GLA to develop a scheme that is fair and transparent to Lambeth businesses.
The scheme
The scheme will be focused on a range of criteria, including micro and small businesses that have had an increase in business rates, businesses which contribute to the night time economy and those that add social value to the borough, employ Lambeth residents or pay the London Living Wage.
The amount of support provided to any eligible business will be decided on need. This will involve the business concerned meeting the qualifying criteria and then having to demonstrate that they cannot easily meet their increased business rates bill. This will be established by a financial assessment based on information supplied by the business concerned which will demonstrate need.
"Such a relief"
Cllr Imogen Walker, Deputy Leader for Finance and Resources said: "I'm delighted that we have been able to quickly confirm the details of our business rates support scheme. We worked with our businesses to lobby the government against these huge rises and, while this funding is only a fraction of the overall rise that Lambeth faces, we now have a scheme that will start to provide the support to the businesses that need it right away.  We're grateful for the support that our Business Improvement Districts provided in drawing up the scheme and now we want everyone eligible to apply as quickly as possible."
Michael Smith, Director of Brixton Business Improvement District said: "At a time when Brixton businesses are struggling under the burden of increased business rates, Additional Discretionary Funding to help to soften the burden for businesses is such a relief. Lambeth Council persisted to make this additional funding available to our businesses. Well done Lambeth Council. Businesses must now apply to make use of this discretionary fund facility.'
Nic Durston CEO South Bank Employers' Group (SBEG) and South Bank Business Improvement District (BID) said: "Businesses in South Bank welcome Lambeth Council's new 'Hardship Scheme' and we encourage eligible businesses to apply.  Along with South Bank's business community, the Council supported a London wide campaign against the outcome of the recent Revaluation of Business Rates, which hit some London neighbourhoods particularly hard.  South Bank was certainly one of these, with rate increases of up to 150% not uncommon. Restaurants, bars, cafes, hotels are particularly affected.
We are concerned at the impact that these rises will have on South Bank's night-time economy, which is such an important area of economic activity, and provides lots of jobs for Lambeth residents.
The campaign had an impact on the government's approach to supporting London's business, but there's more work to do to ensure that business rates don't become a serious obstacle to South Bank's growth and success.  The new 'Hardship Fund' is an important source of support."