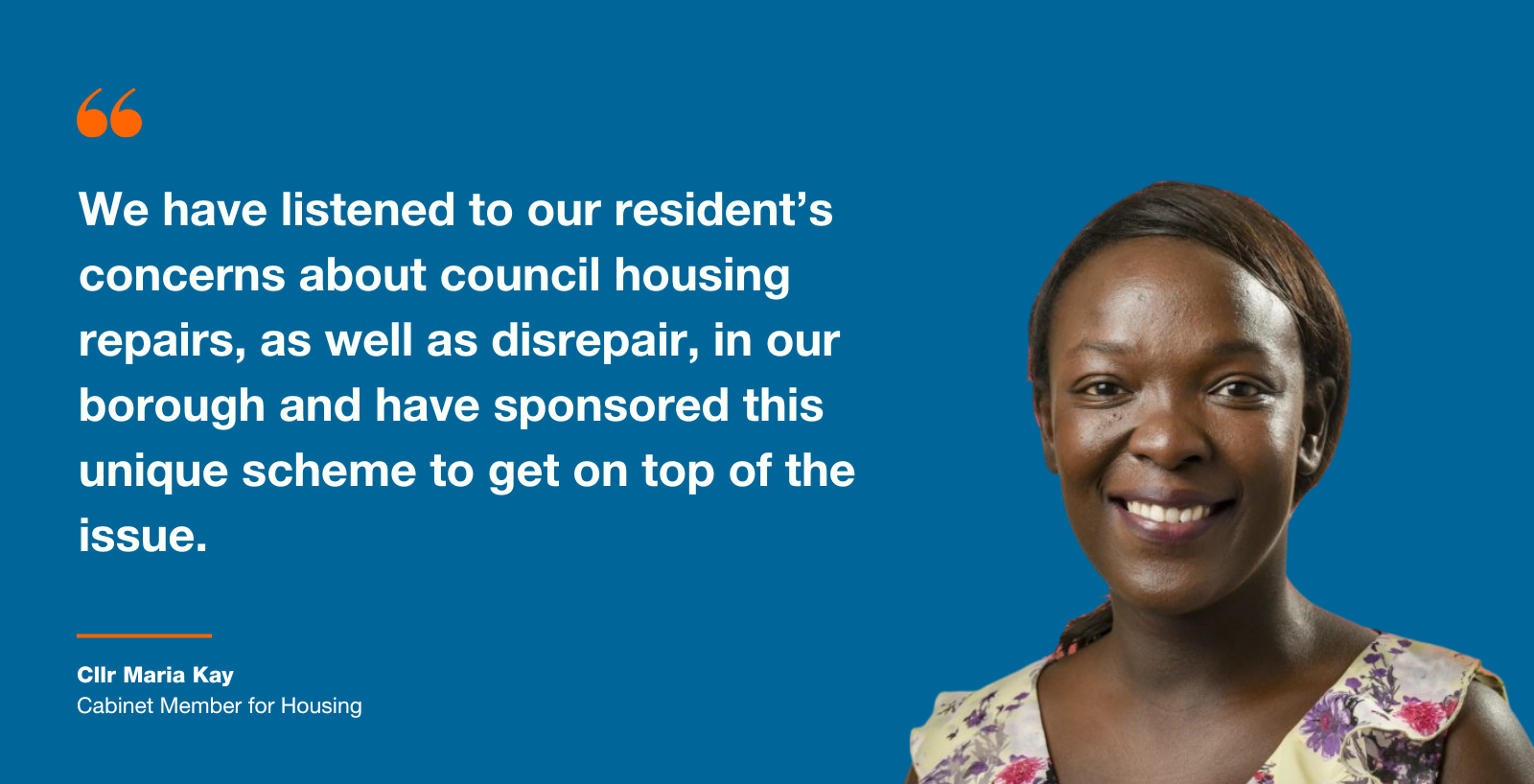 The recent influx of claims, which had triggered mounting costs for compensation and legal fees for the Council, was driven in large part due to a surge in opportunistic legal firms encouraging them – a country-wide problem.
Disrepair claims will be resolved in a quicker and fairer way – and residents will get to keep one hundred per cent of their compensation award through the new Disrepair Arbitration Scheme. Legal firms often require residents to enter into conditional fee arrangements that can result in them not receiving all of their compensation award.
The new scheme provides residents with a free, independent, and straightforward way to resolve disrepair claims – ensuring residents get the compensation they deserve.
Lambeth this year launched a survey of its entire housing stock and ramping up its resources to improve repairs response times and the quality of service. The Council is conducting surveys of all its homes to proactively identify repairs and has procured a suite of new contractors to undertake the necessary repair work.
The move follows the creation of the council's in-house repairs team, Community Works, which this month marks the end of its first 12-months in action. Sixty per cent of Community Works staff are from Lambeth and since being established Community Works has completed more than 5,000 repairs and projects, with 96 per cent of theme being completed on time.
Cllr Maria Kay, Lambeth Cabinet Member for Better Homes and Reducing Homelessness, said: "We have listened to our resident's concerns about council housing repairs, as well as disrepair, in our borough and have sponsored this unique Scheme to get on top of the issue.
"The new Scheme is another example of our commitment to residents and will help ensure repair issues are resolved quickly and fairly.
"The Scheme is part of the radical transformation of the repairs service, which is now focused on providing healthy homes for residents and proactively addressing any past issues.  The service has implemented numerous initiatives over the last 18 months, including the creation of a flagship in-house repairs team, and has a clear resident-focused plan for the future."
The current process for resolving disrepair claims is often very protracted, litigious, and expensive for the taxpayer and residents. The new Scheme is free of charge for the resident, avoids the need to go to courts and the legal costs that can create. All compensation will be determined on the same basis as it would be in court, and residents are entitled to keep one hundred per cent of it.
The Scheme covers everything from damp and mould to water leaks, structural defects, pest issues, electrics, heating and hot water, communal repairs and more. It is designed to ensure outstanding repairs are completed to a high standard early on.
Residents will work with the independent arbitrators who are empowered to determine, with expert advice, what repairs that need to be carried out, and by when.   The independent arbitrator will then determine whether compensation (of which residents will keep one hundred per cent) should be awarded, while dedicated case officers and surveyors ensure the repairs are completed to a high standard.