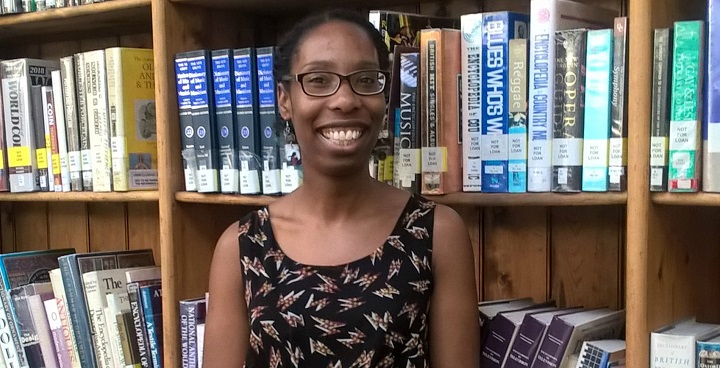 Lambeth Librarian Zoey Dixon has been named a 'Rising Star' by The Bookseller – the UK's main trade journal for the book world. They say: 'The Bookseller Rising Stars list comprises forward-thinking individuals from all sectors of the trade whose actions have caught the eye and who have been singled out as possible leaders of the future.'
Vital part of books' ecosystem
Putting Zoey high on their list of top industry movers and shakers might seem strange – after all, don't Librarians let you have books for free? But Zoey says: "The Bookseller and the book world know libraries play an important role growing and developing readers – children's author Louie Stowell said "libraries are such a vital part of the book ecosystem". Librarians do amazing work, we should be shouted about more! Without us, many authors wouldn't have the success they have. The Bookseller actually want more librarians put forward for the award! But perhaps we're too modest."
Word from the Cabinet
Cllr Sonia Winifred, Lambeth Council cabinet Member for Equalities and Culture, said, "Not only are all of us in Lambeth proud of Zoey for her achievements, but we're also delighted to see Lambeth Libraries recognised as a place of excellence and innovation."
Voice for change
At a time when the dominance of straight, white male decision making in publishing is under challenge, Zoey's roles in CILIP and judging national book prizes, as well as her activity in Lambeth Libraries and on social media, make her a voice for change. "It's all very secretive. I've no idea who nominated me or what they said in their nomination. I hope it's partly due to my work in championing Black writers and writing, as well as young and LGBT+ voices – I am very passionate about that. But it feels very validating that my work and expertise has been acknowledged by the wider book world.
"I've also been shortlisted for a YLG Award from Youth Libraries Group, to recognise innovation and dedication by a staff member working with children and young people in a public library setting. I'm down to the final three so fingers crossed until November."
More information
Lambeth Libraries and Archives have announced their plans for phased re-opening from Monday 20 July July. For the latest updates or if you'd like receive Lambeth Libraries and Archives regular newsletter, email libraries@lambeth.gov.uk or call 020 7926 0750.
Many Lambeth Libraries services are still also available online, including:
The traditional Summer Reading Challengefor the school holidays.