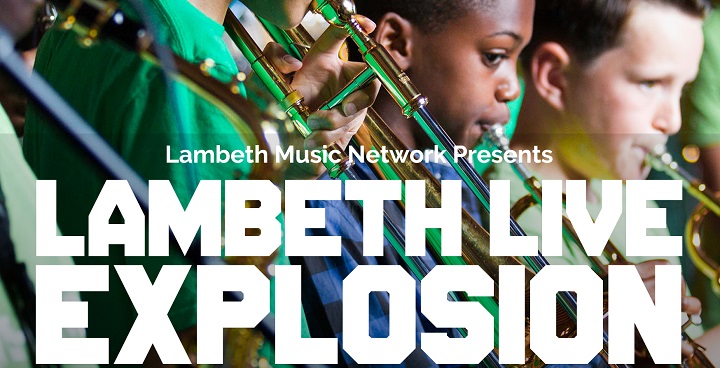 The Lambeth Live Explosion (LLE) is a performance opportunity for young musicians aged 11-25 to play in a professional music venue. The concert features live bands, orchestras, DJs, singer-songwriters and MCs from schools and Lambeth Music Network partners.
Lambeth Live Explosion #18
Celebrating young people making music in Lambeth.
With live bands, orchestras, DJs and special guests.
Free event featuring, Tomorrow's Warriors, Youthsayers, Triforce, Raw Material, Grooveschool, Brixton Wings, The Norwood school, Prevailing Prototype, Hillmead Primary school orchestra.
Where:   Pop Brixton 49 Brixton Station Road, Brixton, London SW9 8PQ.
When:   Saturday 24 June, 3pm till 7.30pm.
After Party with Jerry Dammers, The Specials DJ set
Join us for a free after party with a DJ set from Jerry Dammers, the legendary founder of The Specials and 2 Tone Records, playing a selection of Revival Reggae and Ska, Funk and Rhythm and Blues.
Where:   Pop Brixton.
When:   Saturday 24 June, 9pm
What is the Lambeth Live Explosion?
The LLE brings over fifty musicians together at each concert and helps support key developmental areas of live performance experience and confidence building. The focus at the LLE is on inclusivity and support for all in what has now become a celebratory sharing experience for musicians, their families and friends. Started in 2010, the LLE has offered this opportunity to hundreds of young musicians and has taken place in venues and festivals including the White Lion Streatham, Oval House, The Half Moon, Lambeth Country Show, Stockwell Festival and Southbank Centre.
Oliver Bayley, founder of Lambeth Live Explosion and director of live events for Lambeth Music Service said: "When we started the Lambeth Live Explosion there wasn't a place where young musicians from different areas of Lambeth could regularly perform to each other in a non-formal environment. At the first concert, there were only a few acts but now with the inclusion of the many local out of school music projects, we get to work with lots of great young artists. The event is also about furthering young people's access to music making opportunities and what better way than through sharing the experience of performing together!"
Find out more