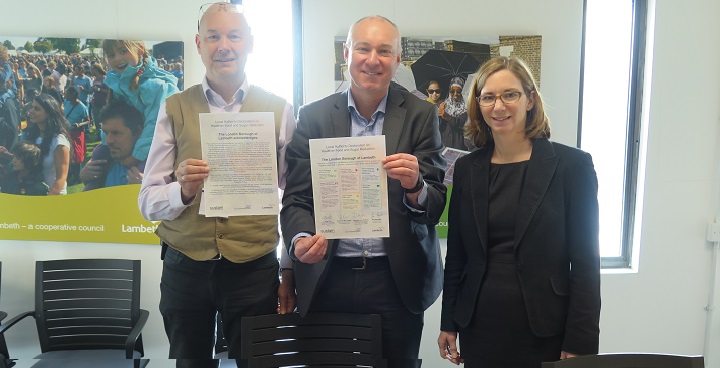 Lambeth Council became the first signatory of the Declaration on Sugar Reduction and Healthier Food, after Cabinet approved signing the declaration on Monday.
The charter, supported by the food charity Sustain, aims to reduce the amount of sugar consumed and promote the consumption of healthier food in outlets under the council's control. Lambeth has now committed to taking action across six key areas: advertising and sponsorship, improving food provided in settings controlled by council, delivering healthier public events, reducing prominence of sugary drinks and promoting free drinking water, and raising public awareness of the benefits of healthier eating.
Lambeth's declaration leads the way among other local authorities in London, as it is the first to commit to taking measures at a local level to tackle what is a growing national issue. Alongside being a Food Flagship Borough and a member of Sustainable Food Cities, this declaration commits the council to take further action to promote a healthy lifestyle.
Word from the Cabinet
Councillor Jim Dickson, Cabinet Member for Healthier and Stronger Communities, said: "It's right that Lambeth is the first local authority to sign the declaration. It builds on the great work already done to promote healthy eating and tackle obesity in Lambeth on schemes like the Food Flagship Borough and our work with schools, which is already improving the health of people in the borough. We're one of the only councils in the country to see a sustained fall in obesity for children leaving primary school.
"We are delighted that Lambeth Clinical Commissioning Group are co-signatories to the declaration underpinning the commitment of the NHS to work in partnership to tackle obesity in Lambeth. But we are not complacent and we now want to take forward the commitments in the declaration – with a range of partners – to promote healthy eating and drinking for everyone in Lambeth."
Taking a stand
Sofia Parente, coordinator of the initiative at Sustain, said: "Congratulations to Lambeth Council for taking this stand.
"We all know how difficult it is to make the right choices when we are surrounded by unhealthy food, the wrong advertising messages and when sugary drinks are cheaper than water. I am delighted that Lambeth is doing everything they can to help their residents, workers and pupils eat healthier.
"I hope other councils in London will now follow Lambeth's example".
You can find out more about the Declaration on Sugar Reduction and Healthier Food by visiting Sustain's website.