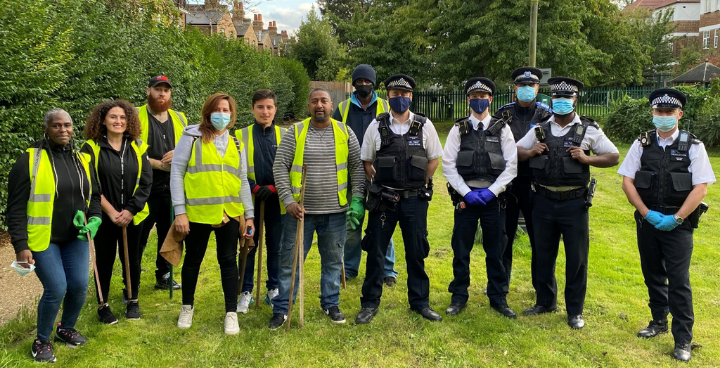 The 19 weapons sweeps in total over the period have been undertaken by Lambeth Council's Public Protection Team working with local police and community support officers. These are coordinated and targeted intelligence-led proactive operations that support the borough's long-term Lambeth Made Safer Strategy to make the borough one of the safest places in London.
Councillor Jacqui Dyer, Lambeth's Deputy Leader and Cabinet Member for Jobs, Skills and Community Safety, said: "These operations are helping improve safety by identifying weapons that have been hidden in public places by those seeking to commit harm against others, while avoiding detection for carrying the weapons.
"These operations also provide an opportunity for residents to raise concerns with the council, build trust and have proved effective in getting knives and other weapons off our streets."
One of these joint weapons sweeps was conducted at the Sackville Estate on October 6. The sweep did not identify any knifes, but after the issue of abandoned vehicles on the estate was flagged as a result of the operation, and the police followed up with further visit.
Officers who attended identified several vehicles that appeared to be abandoned and searched them. During that search they recovered a plastic carrier bag containing what appeared to be a Scorpion submachine gun beneath the rear passenger seat of a vehicle, along with a revolver-style pistol. Officers also recovered several live shotgun cartridges from inside a second vehicle parked at the location.
Superintendent Dan Ivey, Lambeth's Head of Neighbourhood Police, said: "We are working hard to get weapons off our streets while building relationships on the ground with local people with these highly visible neighbourhood operations.
"These operations have proved successful in finding knives that have been potentially hidden by criminals, and also led to information being sharing that is helping stop criminals committing further offences in our borough. The safety and wellbeing of the community is our number one priority and we thank local people for their support."
Anyone who has information that can help police with their inquiries into the recovered firearms and other criminal offending in our community should contact:
Lambeth Public Protection 020 7926 5000. In an emergency please call the police on 999 and for non-emergency situation call for police assistance on 101. To anonymously report crime contact Crime Stoppers on 0800 555111.
Any information given to Lambeth Council will be treated in strict confidence, unless express permission is given to the contrary.