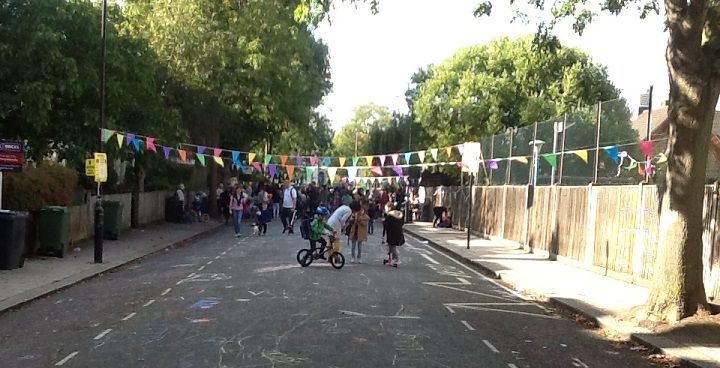 Lambeth's 'School Streets' enable social distancing, improve air quality at the school gates and reclaim roads outside schools from motor traffic, making it safer and easier for children to walk, scoot and cycle to school.
The improvements, starting on Monday at five primaries, are the latest in a series of schemes at 20 school sites across Lambeth. They include timed road closures to reduce traffic around schools, and to ensure local people have safe and accessible transport options to enable each school to run smoothly and safely.
The timed closures support the Mayor of London's London "Streetspace" plan, which states that "as children and young people return to early years, school and further education settings during the COVID-19 pandemic, government guidance remains in place on social distancing".
Lambeth is also taking part in a project led by the Mayor of London, using cutting edge air quality monitors to measure air pollution improvements, comparing Nitrogen Dioxide levels at schools with and without School Streets. In Lambeth, where the majority of people don't have access to a car, the council aims to provide options that will enable residents to avoid public transport, while also making our streets safer. The School Streets will be run in coordination with individual schools.
Cllr Claire Holland, Lambeth's Deputy Leader (Sustainable Transport, Environment & Clean Air), said: "Our children are our future, and keeping them healthy and safe is our number one priority.
"The majority of people in Lambeth do not have access to a car and our aim needs to be ensuring equality when it comes to transport. Just because your family isn't able to afford to run a car shouldn't mean you are exposed to increased risk on public transport or whilst walking, cycling or scooting on our streets as they are too dangerous.
"We need to redress this balance, clean up our air and make our roads safer for everyone."
Lambeth already has two permanent School Streets around Jessop Primary School on Lowden Road, Herne Hill and Immanuel and St Andrew CE Primary School on Northanger Road, Streatham. Fourteen new trial schemes were introduced at the start of this school year, in September.
Five new schemes will launch on 2 November, around Archbishop Sumner CE Primary, Bonneville Primary, Granton Primary, Henry Cavendish Primary Balham and Stockwell Primary.
Although emergency vehicles, blue badge holders and residents will still be able to access the roads at all times, other motor vehicles – including those driven by parents to drop off or pick up children at the school gates – will be restricted.
The council has contacted people living around each school to inform them of the changes and to ask for their views.