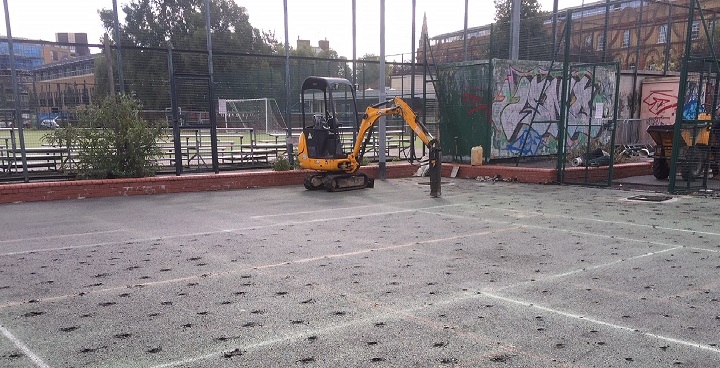 Last year, over 343,000 people used sports facilities in Lambeth parks as part of a healthier lifestyle. That includes 99,000 meeting and competing on Clapham Common tennis courts alone.
Upgrades
Now, Lambeth's Sports Services have begun a programme to repair and upgrade sports facilities in parks all over Lambeth, ready to meet even more public demand. The programme includes works to improve tennis courts, netball courts and Multi-use Games Areas (MUGAS) for football, and basketball players. Our facilities will be safer with non-slip paint, anti-flooding and frost-resistant surfaces, and some will be upgraded to improve accessibility.
First works
Kennington Park's tennis courts are the first for refurbishment, with work scheduled to begin on Thursday 6 September. 62,000 people played tennis in Kennington Park in 2017/18. All works in the programme are scheduled to end by early November.
Planned fitness programmes
To tie in with these physical improvements, Lambeth will develop affordable tennis programmes to support the borough's Active Lambeth Plan outcomes, hopefully inspiring more people to use the sports facilities.
Health and wellbeing
Chris Norris, from the Friends of Ruskin Park – where hundreds of people use the tennis courts – said: "Tennis is a popular activity in Ruskin Park for both children and adults, and we're delighted to see the refurbishment of the courts. We look forward to working closely with Lambeth Council to secure further investment in the park for the benefit of local people's health and wellbeing."
What's happening where?
Brockwell Park – new fencing; resurface six tennis courts ; create accessible entrances; LTA specification tennis court line markings; new posts and nets
Kennington Park – Resurface five tennis courts, two netball courts and junior courts with; LTA tennis court and England Netball specification line markings
Larkhall Park – Green slip resistant paint to two tennis courts; LTA specification line markings, new posts and nets
Norwood Park – Resurface MUGA, new fixed goal posts for football pitch, new line markings for tennis, roller derby and football, new posts and nets
Ruskin Park – new fencing , accessible entrances, resurface four tennis courts, LTA specification line markings, new posts and nets


---
More information
For more about the works programme, and about the sports available, contact the Service by email.