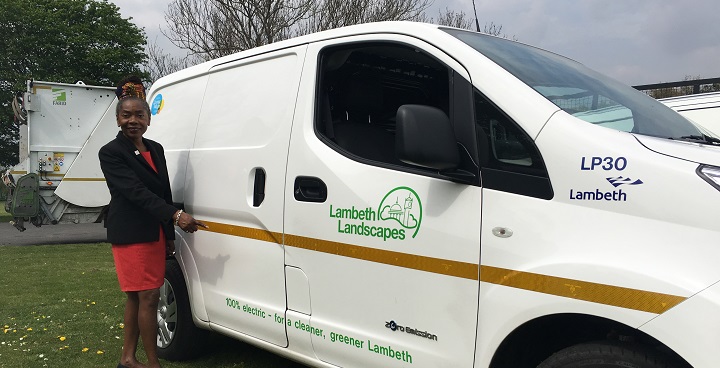 Lambeth's in-house parks maintenance team Lambeth Landscapes has completed the replacement of its entire vehicle fleet – including:
tipper vans for the litter teams
our bio-fuelled toilet cleaners van
the cemetery team's car
the 4WDs we use for towing
our JCB used in recycling
the vehicle our team uses to travel from park to park to update markings for sports pitches; and the
Econic refuse vehicle collecting waste from the parks.
Clean and green
This is the successful outcome of a plan started in 2017 to future-proof our vehicles. We set a fleet target of at least 10% zero or ultra–low emissions. With advice from the Energy Saving Trust we expect to achieve 30% – one of the highest percentages in any local authority.
Ultra-low emissions
94% of our 50 vehicles are classed as "Green", as defined under ultra-low emissions standards set by Transport for London TfL believe only one in 200 vehicles on UK roads has ultra-low emissions  30% of our fleet are now electric or plug in electric hybrid, producing zero emissions. The rest meet Euro 6 emission criteria.
In the vanguard
Our innovation in creating a low-emission fleet also earned the Fleet Transport Association (FTA ) Van Excellence award and we were finalists in the 2018 Fleet Logistics Awards for public service. This was in recognition of greening the fleet and creating a new electric vehicles charging network, including charge points for public use within West Norwood cemetery.
Charging network
We're  taking electric vehicles to the next step with rapid charging points on parkland (including Clapham Common) for our fleet and the public. This will create a much-needed improvement in public access and help encourage more use of low-emission vehicles.
Word from the Cabinet
Cllr Sonia Winifred, Cabinet Member for Equalities and Culture, said "this investment represents a significant improvement to our Lambeth Landscapes fleet and will reduce the environmental impact of the services that we deliver in the community."
For more information
For more about Lambeth's Parks, including 18 that won Green Flag awards in 2018, see the Council's web pages
For more about the ULEZ standards see TFL's information pages To see if your vehicle meets the ULEZ standard, use TfL's vehicle checker.
For more about the FTA Van Excellence Award see their website.