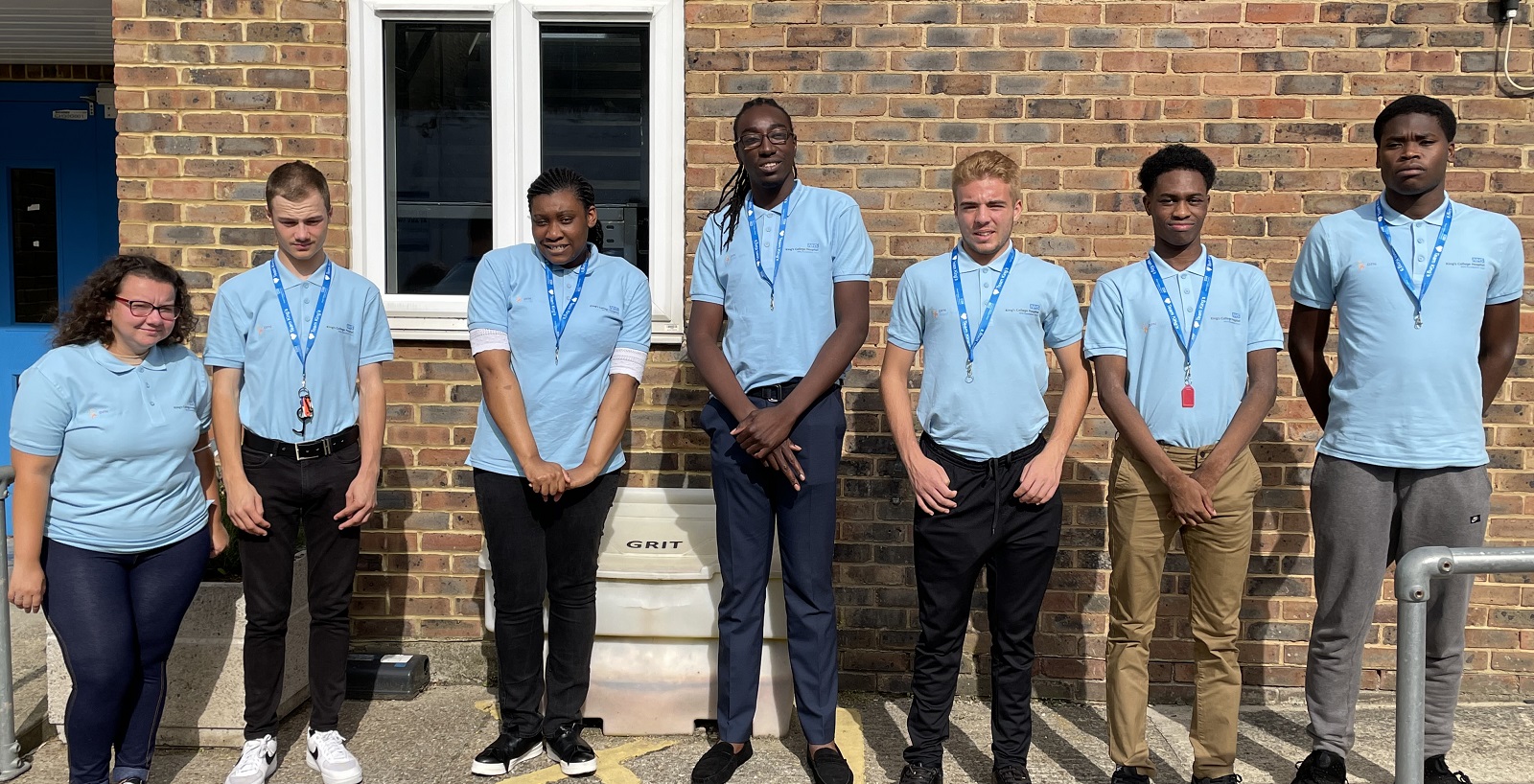 Project SEARCH, Lambeth College, Unity Works and Lambeth Council are giving seven young people with a range of learning disabilities, including autism, a chance to learn and work as they begin their Supported Internships at King's College Hospital. Four of the young people studied at Lambeth's Elm Court specialist school, three at Lambeth College.
A year of experience
King's – like all hospitals – needs a hugely diverse group of people doing all kinds of jobs. Some are on the frontline with patients, some in offices, some in scientific or practical support roles.  Supported Internships will give the Lambeth residents a year's worth of experience in different departments of the hospital, including Therapies, Radiology, Theatres, ICT and the Wellbeing Hub. The work rotations will be based around changing department every 10-12 weeks, each one working for a term in three areas matched up with their skills, abilities and interests, enabling the interns to widen their range of experience, and then the final stage graduating in July 2022.
Word from the Cabinet
The Lambeth Project Search Partnership forms part of the Lambeth Made Youth Promise offer for SEND young people.
Cllr Edward Davie, Lambeth Council Cabinet Member for Children and Young People, said: "This is a fantastic project I really welcome – Lambeth is blessed with three major teaching hospitals that not only provide excellent healthcare but also training, jobs and contracts for local people. It is vital that as many NHS staff as possible are drawn from the local community and that those staff are representative of those communities. To do that properly we must make sure that young people like these students are given the chance to learn about working at hospitals like this. I hope this is just another step in our great NHS supporting even more of our young people into great careers caring for others."
 Coaching, tutoring, mentoring
The young people are supported through the work rotations by the Job Coach, a personal tutor from Lambeth College's Supported Learning team and by mentors from King's staff. This collaborative approach ensures that all interns have access to the best outcomes possible whilst on their work placements as well as during the classroom-based elements of the programme. The partnership actively ensures interns continue to develop English, Maths and Digital Skills embedded into their work placements which are areas that young people with SEND often find challenging.  Not only does this support provide the interns with the personalised key skills they need to gain a qualification and experience but also increases their chances at securing sustainable paid employment once the internship comes to an end.
Life chances
Fiona Morey, Principal of Lambeth College, said: "We are very excited to be working together with Project Search and KCH in supporting realistic, challenging and purposeful work placements that will provide exceptional outcomes and life chances for our young people with SEND"
More information
Project SEARCH is the national programme for people aged 18 to 24 years old with learning disabilities and autism to gain work experience. Project SEARCH in the UK began in 2008 and today runs over 70 schemes throughout the UK and Europe. They have supported more than 1,500 young people into paid work. See the Project SEARCH website.
If you are a young person, parent or carer who would like to find out more about the Lambeth Made Youth Promise you can complete our short enquiry form here, or email us at youthpromise@lambeth.gov.uk.