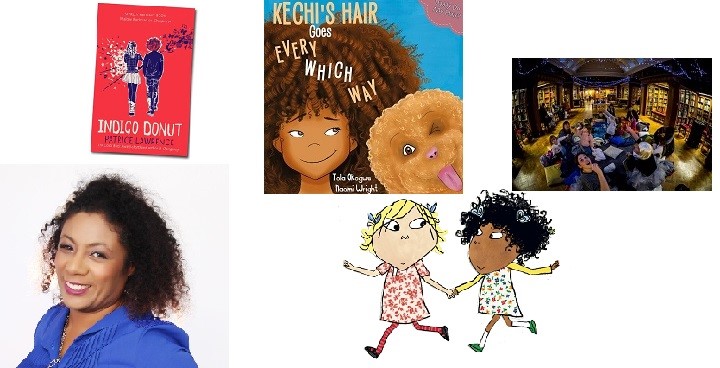 Lambeth Libraries have organised readings, interactive workshops, films, drama, and a chance to meet authors all month and all over Lambeth as part of the Lambeth Readers and Writers Festival 2018.
Events in May
A LEAP to the Movies Tuesdays 1, 15 & 29 May Tate South Lambeth Library 2-3pm
Bring your 5-year olds and under for free screenings of English classic animations with Tate South Lambeth Library and LEAP (Lambeth Early Learning Partnership) followed by arts & crafts activities and healthy snacks buffet. 2 -3 pm
What makes an awesome story? Friday 4 May Clapham Library 4pm
For 8-13s. What does a story need in it to make you read it again and again? Use fun, games and drama to look at your favourite books and some of ours then start to write or draw (picture from Nightfall Festival top right). Limited places, booking advised 020 7926 0717 or email.
Meet award-winning author Patrice Lawrence Saturday 12 May Clapham Library 10am
Starting the Clapham Book Festival with the author of award-winning Orangeboy and new novel Indigo Donut (see book cover and author's photo above left), "Book of the Week" in 3 national newspapers. Book free tickets on eventbrite or 020 7926 0919
Kechi's Hair Goes Every Which Way with Tola Okogwu Tuesday 29 May Brixton Library 10.30 am
Who will win in the epic battle between Dad and Kechi's fluffy-puffy, squishy-squashy, candyfloss hair hair when he's trying to get her ready for school? Meet author Tola Okogwu reading from her fun and hilarious new book (pictured top centre).
Beach Ball and the Bucket – Children's theatre workshop 31 May and 1 June
Page One Theatre take 4 to 7 year olds (accompanied by an adult) with dance and puppetry on a sensory journey to the beach. Leave city life behind and play in the sea spray and salty air.
Thursday 31 May 11am -12 Minet Library & 3pm – 4 Carnegie Library
Friday 1 June 11am -12 Upper Norwood Library & 2pm -3 Waterloo Library
And in the months to come…
Lambeth libraries are inviting local schools to meet young adult and children's authors as part of YA Shot literary festival inviting young people to focus on human rights.
The 2018 Summer Reading Challenge runs 15 July to 17 September – 4-12 year olds read six library books in the school holidays; to write reviews and chat to other readers.
---
For more information
Book for Patrice Lawrence at Clapham Library. For more about Clapham Book Festival see their information pages
To find out more about YA shot email Rossella Black
To find out more about the Summer Reading Challenge, about this year's Mischief Makers theme inspired by the 80th birthday of the Beano, and how young volunteers can help with the Reading Hack programme, contact your local library.
For full details about what's on as part of the month-long festival pick up a copy of the Lambeth Readers and Writers festival guide from your local library, or visit Library Services' information page about the festival and download it.