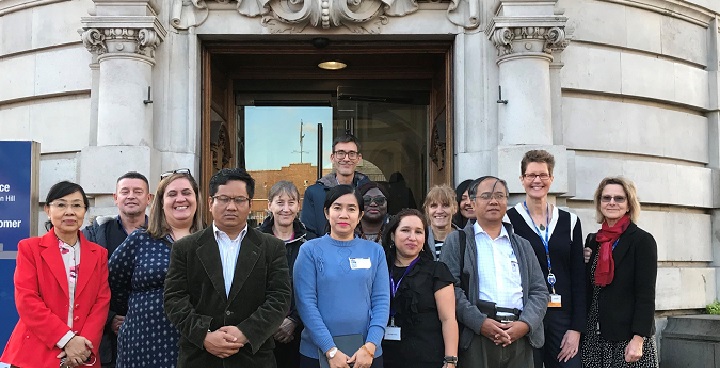 Lambeth Council hosted a two-day visit from the Myanmar Ministry of Education, sharing information on adult learning with representatives of the Southeast Asian nation. The Directors from the Ministry of Education were hosted by council staff from the Lambeth Adult Learning Service.
Education plans
Myanmar formed a Department of Alternative Education in 2016 to lead on developing an equivalent to the adult learning sector in the UK. Three directors from the new department visited three adult learning providers across the UK as part of their wider visit. Their aim was to learn about building the capacity of their staff to develop their new education plans, and how to run them outside the school system in Myanmar.
Word from the Cabinet
Cllr Jenny Brathwaite, Deputy Leader of the Council, said: "We were happy to share our expertise when asked. We hugely value adult learning in Lambeth and hope that sharing good practise with the representatives from Myanmar can help benefit people in their developing economy."
Training providers
The visitors were also taken to visit MI ComputSolutions in Brixton, one of the council's partner training providers. There they learned about what makes learning in Lambeth such a good experience for learners and took part in lesson observations.
A lot to learn
Director General Dr Zaw Win, one of the visiting officials, said: "We really enjoyed our visit. There was a lot to learn, watching the interactive teaching methods and understanding how lesson observations are used to improve the quality of learner experiences. It was a pleasure to meet such friendly and helpful staff.
Assessment tools
"Our new department is currently developing quality and assessment tools so it was very useful to see how these are used in Lambeth to benefit learners. We were very interested in the range of non-accredited courses, especially those used to promote social inclusion, and we were impressed by how learners were given advice and guidance to progress on to further stages of their learning."
Safeguarding and sharing
The visitors noted how diverse a community the Lambeth learners represented, and they also noted the importance Lambeth learning providers place on safeguarding their learners.  Both Lambeth Adult Learning Service and the Myanmar Ministry of Education hope to continue sharing experiences and working together in partnership in the future.