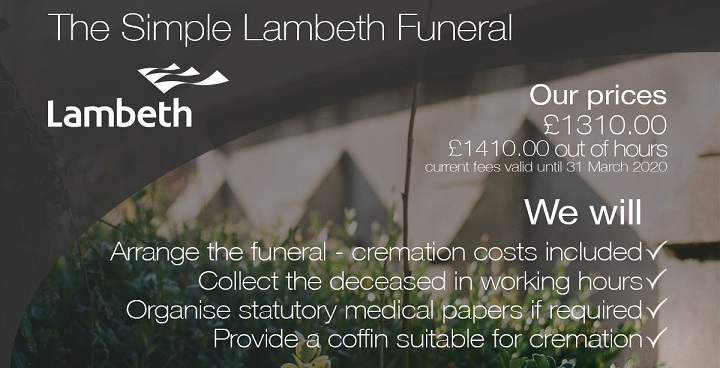 Lambeth's Bereavement Services Manager Jacqueline Landy explains the council's new Simple Funerals. "We've seen someone live all their life in Lambeth, pass away without money, and be taken as far as Hendon for cremation, so their friends can't go. We've had friends wanting to give someone a send-off but unable to find £4,000 or £5,000 to pay for funerals. We've created a way to help.
Funeral poverty
"The institute of Cemetery and Crematorium Management have led conversations in the industry about funeral poverty. This year's Cremation Service survey included a question for the first time 'are you thinking of offering more affordable funerals?' We're the first in London to launch one.
Simple Lambeth Funeral
A Simple Lambeth Funeral is priced at £1405.00 from 1 April. Bereavement Services will:
Arrange the funeral (it's the only London service including cremation costs).
Collect the deceased during working hours.
Organise any statutory medical papers
Provide a coffin suitable for cremation.
"Many local authorities arrange 'council funerals' through funeral directors. We'd already made provision to improve Lambeth's public funerals service with a collection vehicle and refrigerated units – we had the means to offer people the complete thing.
Last goodbyes
"Some things we can't do – we aren't embalmers, so no chapel of rest. We suggest 'last goodbyes' in the hospital or hospice. We can't provide a religious service – although that's many people's choice, anyway. And if you want to bring a minster or someone to deliver the eulogy, it's fine. We won't take coffins to and from a church. We don't have pallbearers and all the formality of a funeral march – but again, many people don't want that. But it's always worth asking – a choice of coffin, burial not cremation, are things we can talk about.
Suitable for anyone
"But, apart from no hearse, it's 100% a funeral. You can have music and suits. It's in a non-denominational chapel, suitable for everyone. You can have the ashes scattered in Lambeth, including West Norwood, one of London's 'Magnificent Seven' cemeteries, with listed monuments to famous Victorians. Or you can collect them to keep or scatter in a place that was somewhere special to the person.
Creating choices
"There's a belief that, when it comes to funerals, if you don't have money, you don't have choices. We mean to change that."
More information