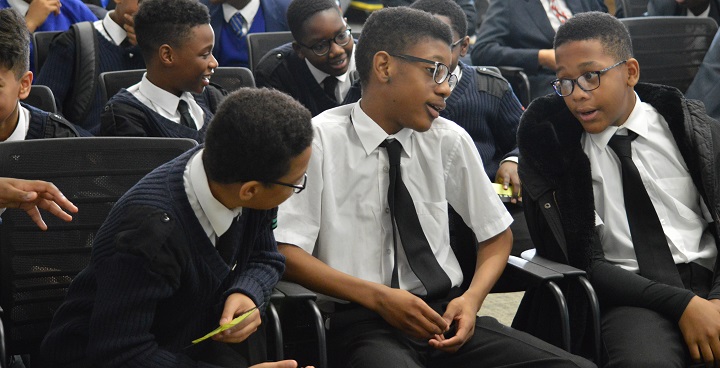 After a highly successful event in 2018 and back by popular demand, the Lambeth Schools Partnership (LSP) ran another week of Aim High inspirational talks at Lambeth Town Hall which were attended by around 400 Black Caribbean heritage students from Lambeth secondary schools.
Successful individuals
Aim High, a strand of the LSP's Raising the Game project, aims to raise aspirations through exposing students to inspirational and highly successful Black individuals from a range of professional and academic backgrounds.
Path to success
The 15 sessions over the week saw students from years 8, 9 and 10 hear 28 speakers who shared their own path to success. They included tech experts from the Black Googlers Network, neuroscientists, doctors, lawyers, educators, economists, historians and the Black British Business Person of the Year 2019 (the first Black person to chair the British Science Association). Students were able to find out about these individuals' personal, academic and professional journeys and ask profound and challenging questions.
Inspirational
Feedback from students and teaching staff was extremely positive, with an average overall rating for the week's events 8.29 out of 10. Students praised the events as 'inspiring', 'interesting', 'empowering' and 'relatable'. One year 9 student reflected that 'just because you go through struggles and rejections, this doesn't mean you can't be successful. You have to 'fail forward' and turn hardship into success.' Another informed the speakers they had motivated him 'to also be an inspirational Black person with many achievements.'
Path to excellence
Speakers expressed how much they enjoyed 'connecting with the next generation' (Richard Cummins, Senior Tech Specialist for Google). Tola Akinyemi, Brand Manager for Deliveroo, praised the Aim High initiative: 'I never had anything like this growing up and I wish I did'. Cyprian Njamma, Oxford graduate and Director of a global investment management firm, commented: "These types of events are definitely beneficial for the students' futures and keeping them on the path to excellence."
Great Black Britons
Juliet Williams, Lead for Lambeth Careers Cluster, hosted the week of events with great enthusiasm. Students said 'she really made [them] think about [their] achievements and futures as Black individuals'. Juliet also led the segment on 100 Great Black Britons; a new feature for this year's Aim High events. This segment was informed and supported by Patrick Vernon OBE and Dr Angelina Osborne's 2004 publication 100 Great Black Britons which has been commissioned for republication in 2020. Students reflected on the achievements and contributions of Black Britons from past and present generations and made suggestions for who they would nominate for the new edition.
For more information
Raising the Game: Achievement of Black Caribbean Pupils in Lambeth is a two-year project focused on closing the attainment gap between Black Caribbean students and their peers, as well as reducing disproportionate exclusion levels. Raising the Game encompasses initiatives including diversifying our curriculum to better reflect the borough's (and London's) community, head teacher coaching, unconscious bias training for heads and chairs of governors, and early years parental engagement activities. There will be other Aim High events in future.
A video of highlights from Aim High secondary 2019 will soon be released.