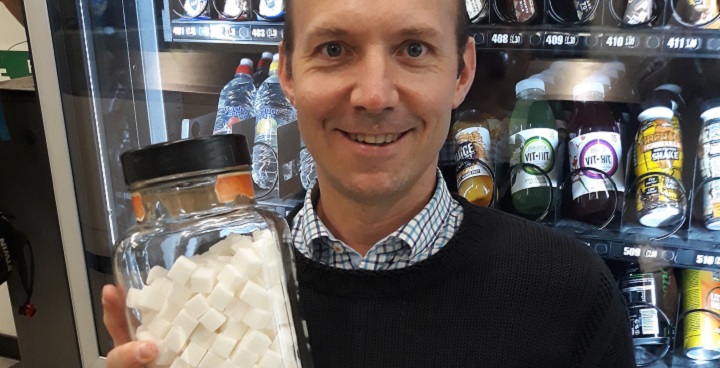 It's Sugar Awareness Week and Lambeth Council is playing its part in trying to reduce the amount sugar people in Lambeth consume. Sugar contributes to the increasing problems of obesity, type two diabetes, dental cavities and other health conditions.
Healthier vending machines
Lambeth Council have worked with Better GLL, the operator of our leisure centres, to reduce calories in vending machines in our centres across the borough including Brixton, Streatham, Clapham and West Norwood.
1000 sugar cubes
The new machines replace many of the chocolate bars with nuts and nibbles, sweets with sugar free alternatives and crisps with popcorn or lighter options. The changes mean the vending machines contain significantly less calories and sugar – the equivalent of up to 1000 sugar cubes have been removed from a typical machine.
Sugar Levy for schools
Lambeth's public health team is also working on improving the health of our children by spending the borough's share of Sugar Levy money on school-based programmes. 67 Lambeth schools applied for Sugar Levy funds, the money produced by the government introducing a new tax on high sugar drinks. All who applied have been allocated up to £10,000. The process focused on ensuring that schools would be using the funding on resources to tackle obesity by taking a whole school approach to improving diet, nutrition, physical activity and general wellbeing. Resources schools have applied for include cooking resources, gym and physical activity equipment, water fountains and an edible garden. The allocation has taken into account the needs and size of the school and most of the schools with relative greater needs have received relevant funding. All schools who applied are committed to The Daily Mile programme and we have also been able to work with suppliers to get discounts so that the funding could go further.
Taking a lead
Feedback from Public Health England (PHE) and Healthy Schools London notes that Lambeth is one of the only boroughs taking this comprehensive approach to the Sugar Levy and we have had requests from other boroughs and PHE to share how we have gone about it.
Word from the Cabinet
Cabinet Member for Health and Adult Social Care Cllr Ed Davie said: 'Lambeth has managed to reduce some childhood obesity against the national trend but we must go even further if we are to support our residents enjoy the best health. As part of that we are working to reduce the amount of sugar available in food and drinks and use our share of the sugar levy to improve health in schools.'