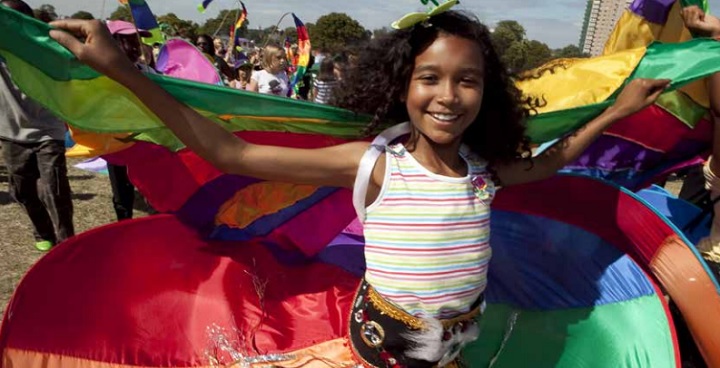 It joins 12 other adventure playgrounds around Lambeth where children will be able to enjoy free, supervised play indoors and out during the holidays. They are among more than 100 activities and places to go that are listed in Lambeth's summer programme brochure, many of them free of charge.
The brochure, available online on the Young Lambeth website and in libraries, also lists 12 one o'clock clubs and eight libraries running holiday sessions along with youth clubs and more specialist courses, sports and programmes. Many are subsidised by funding from the council, with extra raised by the dozens of voluntary organisations which run the activities. We have also listed paid-for activities which represent good value in terms of holiday childcare for working parents.
Cllr Jane Pickard, Cabinet Member for Families and Young People, said: "The re-opening of Max Roach represents one more victory in the battle to keep these sites going in the teeth of severe Government budget cuts.
"In the frontline of this battle are dozens of community groups, volunteers and play workers devoting their time to fund-raising and organising. Behind them, council officers work to provide rent-free, clean and safe sites and the Young Lambeth Co-op brings it all together and distributes council and external funding.
"The council is determined to do everything it can to maintain youth clubs, adventure playgrounds and one o'clock clubs. They are particularly important to the thousands of families living in flats with no gardens and of special value to children in over-crowded households. And the summer activities provide a holiday on their doorstep for children whose families cannot afford to go away. They also give parents a break and often bring them together as well, enhancing community cohesion.
"For this reason, we have tried to find community groups with the enthusiasm and expertise to run these sites and raise their own funding from sources such as the National Lottery, Sports England and local charities. Some, like the Triangle Adventure Playground in Oval, have had some success with crowd-funding and others receive money for their work with disabled and special needs children. Yet others, such as Lollard Street in Kennington, raise money by charging teams to use a sports pitch. Or they rent out space for children's parties.
"We have been very lucky to find some great partners, with energy, ingenuity and a flair for money-raising and only a handful of sites remain without providers."
Along with Max Roach, run by Loughborough Community Centre which manages the successful one o'clock club next door, outdoor play in the Brixton area is also being offered on Saturdays throughout the holidays at Grove Adventure Playground near Loughborough Junction following a two-year closure.
Lambeth Council is particularly grateful to Loughborough Junction Action Group for the energy and determination they have shown in lobbying for this to happen and to Marcus Lipton Youth Club for their help in offering access to toilets and shelter on wet days.
Cllr Pickard said: "As all these groups will agree, the future is not guaranteed. We need to work together in the co-operative, community-spirited way so typical of people in Lambeth to keep these valuable sites open. Only that way can we continue to provide safe, supervised play to help our children and young people grow into confident, successful adults."