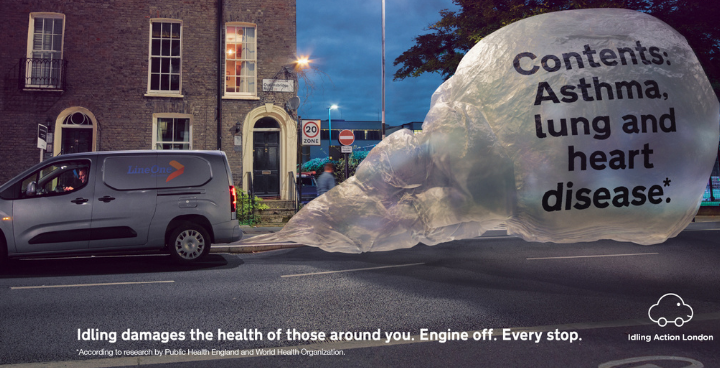 Lambeth has joined forces with Idling Action London and other participating local authorities to use the campaign to make visible the invisible by visualising the unknown and surprising amount of pollution that can be created from a single idling vehicle engine.
Switch off your engines
With 420 litres of exhaust fumes released per minute of idling for a single small van or family size car, this could be enough to raise harmful nitrogen dioxide (NO2) to illegal levels in a small street canyon environment (44.1 μg/m3, as found in TRL's Review of Emissions data, Dec 2020). NO2 is associated with lung inflammation and can trigger asthma symptoms from short-term exposure, while long-term exposure to higher concentrations of NO2 can impair lung development in children and can contribute to other respiratory and cardiovascular health conditions in children and adults.
Switching off is the easiest way to minimise unnecessary pollution. With a small change in behaviour Londoners can practically engage with air quality issues and make a positive difference at a critical moment.
Word from Cabinet
Cllr Claire Holland, Deputy Leader of the Council (Sustainable Transport, Environment and Clean Air) said: "Idling is a needless source of air pollution that seriously impacts on the health of our residents, particularly children and those with underlying health issues. I am pleased to be supporting Idling Action London's campaign "Engines Off. Every Stop" and to continue to work with them, our partners and other London boroughs to tackle this harmful source of pollution."
Word from Mayor of London
Sadiq Khan, Mayor of London said: "Engine idling is completely unnecessary and threatens the health of anyone close by. Air pollution is not just a central London problem, which is why I'm glad London boroughs have joined this call to promote 'Engines Off, Every Stop'. Supporting boroughs through the Mayor's Air Quality Fund is just one of the ways I'm working to improve London's air, including cleaning up London's buses, tackling air pollution around schools and, in October this year, expanding the Ultra Low Emission Zone up to the North and South Circular roads to cut pollution for millions more Londoners."
How to get involved
Idling Action London asks all Londoners to join the campaign, showing their support and sharing their #EnginesOff messages online.
The Engine Off Every Stop launch event takes place as a 'Call to Action' webinar on 23 February at 4-5pm and will be an opportunity for residents, businesses, community groups and Londoners to find out how they can get involved with the month-long campaign. It will also be an opportunity to showcase what partners have been doing to tackle idling. Another event focused on schools and parent groups is scheduled for March 9 at 4-5pm. This will focus on actions for schools to engage with the campaign.
More information
For more information about Idling Action London, their free toolkits and resources, and how to get involved in "Engines Off. Every stop" visit the Idling Action London website.