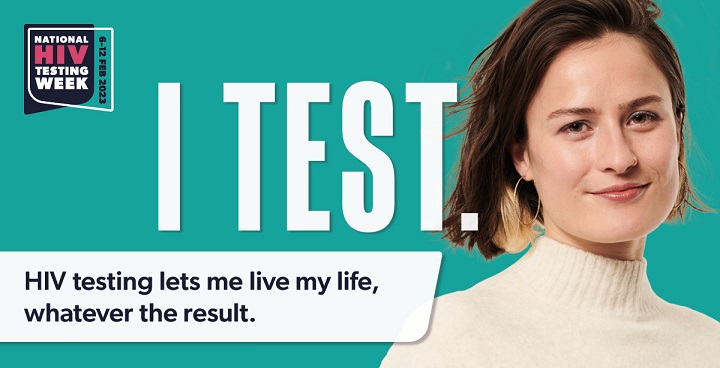 The week is the National HIV Prevention annual event promoting regular free, confidential, quick and easy testing for HIV – especially among two groups most often affected by HIV:
Men who have sex with men (MSM, often called gay or bisexual men) should take an HIV test at least once a year, or every three months if they are having condomless sex with new or casual partners.
. Lambeth's Public Health team recommend an HIV test every three months (or more often if you change partner).
This year's campaign is based around all kinds of people sharing the message "I Test".
Testing is free and easy
Testing for HIV is free, quicker and easier than ever – you can even order a testing kit (delivered in plain packaging) by post, test at home or send your test results to a lab, get your results in about a week, find out your status and live your life. Remember, anyone diagnosed with HIV in the UK can access free treatment and support.
Test on time
While new HIV diagnoses have continued to fall over recent years, the latest data from the UK Health Security Agency (UKHSA) report that late HIV diagnoses are still high in England. In 2019 UKHSA warned that people diagnosed late had a more than a seven-times higher risk of death within a year.
Testing week aims to reduce the number of people who are infected but don't know it (meaning they can put others at risk by passing on the infection) or start treatment late because they have been diagnosed late as well.  It also raises awareness and knowledge of how easy it is to test HIV status in the general population.
 More information
HIV is a virus that damages your immune system. It is most commonly transmitted through unprotected sex. Read about the virus, testing, prevention, symptoms, treatment options and FAQs.
Find specialist services that can help you with managing your risk, living with HIV, accessing medication and vaccinations or support you to deal with abuse, violence or feeling anxious or depressed.
Do it London is the Lambeth-led, London-wide alliance of 32 councils to test for, protect against, and prevent HIV infection in their residents. Find advice on testing and treatment.