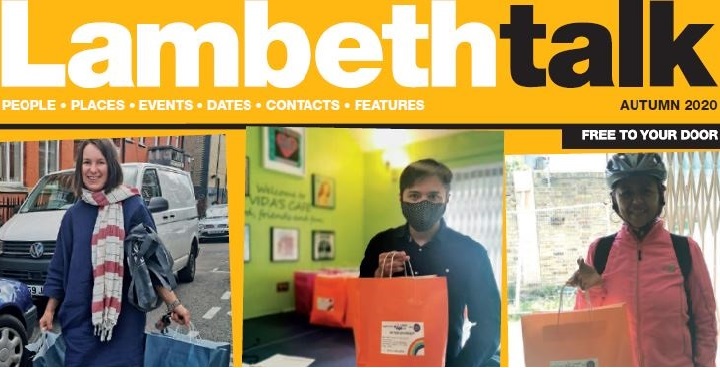 Autumn's 24-page Lambeth Talk magazine brings news and updates from the council and the community. The front cover shows a few of the volunteers who've asked to be matched up to help others in Team Lambeth this summer – and that's not the only story about the community coming together this quarter.
News and updates include:
Cllr Jack Hopkins, Leader of Lambeth Council, outlines the Council's plans for recovery from Covid-19 based on safe re-opening of businesses and spaces, and thanks people and organisations who came together to help.
News on the restarting arrangements for housing the housing repairs service, opening hours at the Civic Centre, listening events on public safety from Lambeth Made Community – and more.
The Cost of Covid: Lambeth has spent millions on helping the community since the start of Covid-19 – on delivering food packages, PPE, widening pavements to allow social distancing, business grants and more. Now we're taking the opportunity to make fresh starts with an investment programme.
Residents Survey results. This year, we interviewed more than 3,500 people in Lambeth about the impact of Covid-19 on their lives and wellbeing, as well as traditional questions what they most like about Lambeth and what they most want to see changed in the borough.
Safer Streets – news on the low traffic neighbourhoods, building safer walking and cycling networks, and how it contributes to the Council's plans to improve the environment and air quality for people who live and work in Lambeth.
The Lambeth Heritage festival – more than 400 events throughout October, from music hall memories to young people's film-making, virtual walks and talks on everything from Lambeth's architecture to its zoology – and all online for the first time in history.
Foster Carers fortnight and health matters updates.
Get your copy of Lambeth Talk
The new Lambeth Talk will be distributed free by post to every household and business in the borough, with deliveries starting on 8 September.
Or you can read it online or download a copy.