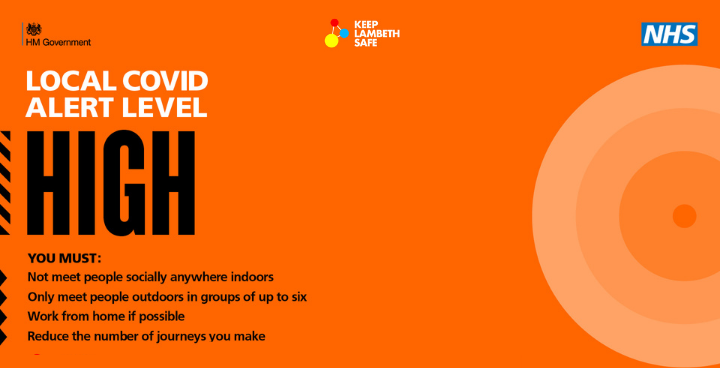 The restrictions come after official figures for London have shown that all boroughs have a rate of higher than 50 cases per 100,000 population and increased positivity rates. Cases in Lambeth currently stand at 92.5 people per 100,000 people.
The 'High' level, part of the government's change in the structure of Covid-19 restrictions earlier this week, restricts mixing between households indoors, apart from in support bubbles. This includes private homes, and any other indoor venue such as pubs and restaurants. The 10pm curfew for hospitality venues remains in place.
People may continue to see friends and family they do not live with (or have not formed a support bubble with) outside, including in a garden or other outdoor space. When people do so, they must not meet in a group of more than 6. This limit of 6 includes children of any age.
Cllr Jack Hopkins, Leader of Lambeth council said: "The virus is now spreading in every part of our city – and the new restrictions are necessary to get this under control and to protect Londoners and our NHS. I urge all Lambeth residents to follow the rules and to abide by the public health advice – washing their hands, wearing a mask in required settings like shops and public transport and socially distancing from those outside their households.
"I have been clear to government that new restrictions must go hand in hand with additional economic support to protect businesses that have struggled already so much due to the pandemic.
"The government's own scientific advice makes the case for a stricter national lockdown for a short period of time – a so-called "circuit breaker". I share that view and urge the government to follow the advice so that Lambeth residents can remain safe."
Councillor Hopkins wrote to Lambeth residents earlier this week, before the government announcement, to stress the need to follow the rules and about the need for a "circuit breaker" short lockdown.
Ruth Hutt, Direct of Public Health said: "We are seriously concerned by the continued rise in cases here in Lambeth and welcome these new restrictions. As we've seen in other parts of the country, cases can rise very rapidly if we do not take early, proactive steps to stop the spread of the virus. I would urge everyone in Lambeth to take the new rules seriously to protect themselves, their families and particularly older and more vulnerable members of the community who at greatest risk of falling seriously ill.
If you have coronavirus symptoms you must isolate yourself at home and get tested. This is critical to stopping the spread of the virus.  If you are asked to self-isolate by NHS test and trace please follow this advice even if you feel well as it will protect those around you."
Further information about the new restrictions, including information about which business can remain open and childcare are available here: gov.uk/coronavirus.