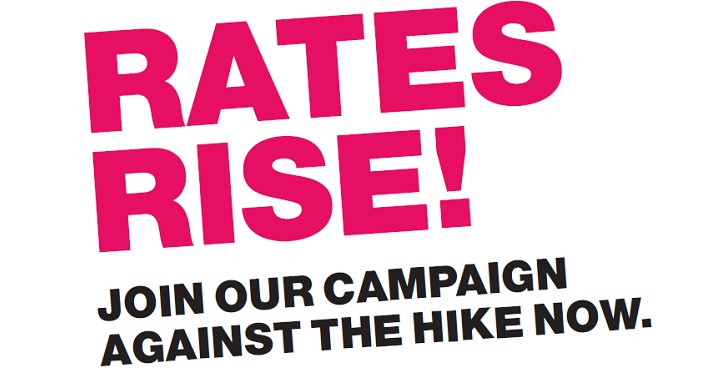 Leader of Lambeth Council Cllr Lib Peck, along with the borough's Business Improvement Districts and MPs Helen Hayes and Chuka Umunna, have written to Philip Hammond ahead of his budget speech due tomorrow afternoon.
Businesses of all sizes have joined the council in campaigning against the potentially huge rise in Business Rates due to come into force next month, warning that the extra charges could cripple many independent businesses and damage Lambeth's thriving small business environment.
The letter included testimony from business owners in Lambeth and pointed out that small independent businesses in successful schemes like POP Brixton are facing rates rises of more than 200%, threatening to stifle enterprise and hurt the local economy.
Although local authorities like Lambeth must collect business rates, the majority go to central government, and the way it is redistributed means Lambeth will not see a penny of the extra money, meaning no local benefit.
Sign our petition to the Secretary of State, against the rate rise!
The letter
Dear Chancellor
We are writing to you regarding the upcoming revaluation in business rates, which will cause huge rate hikes for many of the businesses in the London Borough of Lambeth. We urge you to consider the impact that this rise will have on businesses in Lambeth, across London and in other parts of the country.
The delayed revaluation of business rates and the subsequent rise in property prices means that many businesses in Lambeth will be hit by the maximum rise in rates in the first year, with significant rises after that as well. The 43% cap is of little consolation to those that have to find thousands of pounds in additional rates, on top of other costs for businesses that are rising all the time.
Lambeth is home to thousands of excellent businesses and has been one of the fastest growing boroughs in London in recent years for new business growth. These new measures put that at risk, threatening our economy and putting at risk London's impressive track record for enterprise, employment and business growth.
Businesses cannot fairly be expected to pay such huge rises, particularly with such little notice. Many Lambeth employers have expressed real concern about how they can carry on if faced with such a huge burden. Our local Business Improvement Districts have worked extremely hard to raise awareness among their members about these rises and they are clear that they will be detrimental to the economy.
Hundreds of residents and local businesses have expressed their concern about this and their opposition to the business rates rises. We have included just some of the comments below:
Dominic Lake, Founder of Canteen restaurant, on the South Bank, said: "How serious is it? Very serious. Does it keep me up at night? Yes it does, because I'm responsible for 150 people just in my small business.  If my cost base rises – and there is a threshold I can charge for any of the items on our menu – there's a crunch.  It's a very serious commercial impact, not just for my business but any business in hospitality."
Scott Leonard, Founder & Creative Director at The Champion Agency in Brixton, said: "SMEs face the most uncertainty they've ever faced – we're in a very uncertain period within the country – to then levy them with a tax of up to 30% higher than what they're currently paying is not acceptable."
Javier Moreno, owner of Café Barcelona in Streatham, said: "Small business owners who are actually the ones who create the community, who build up the neighbourhood, who make the economy grow, are going to struggle a lot after this increase."
John Bigos, Managing Director at London Duck Tours, based on the South Bank, said: "Lambeth are doing a great job in trying to stimulate business and encourage people to come into the borough.  How do I square off the new drive to bring employment to Lambeth with just over 30% increase in our rates bill without any justification?"
These are not multi-nationals making huge profits that can absorb such rises. Many are small businesses that are the lifeblood of our economy and these increases will put that at risk.
These are just a handful of examples. In our town centres, we see independent businesses fearful of the rise while supermarkets benefit from a business rates cut. We see such inconsistencies all across our borough. For examples, a recently established site in central Brixton, that is home to around 20 small, independent start-up businesses run by enterprising and hard-working entrepreneurs has proved incredibly successful and popular. Yet it is due to be hit by massive rises in rates of over 200%.
We see similar anomalies across our town centres, with independent retailers and night-time venues in particular facing significant and inconsistent rises in business rates. That threatens their future and could no doubt turn people off even attempting to start a business in the current environment. We are sure you would agree that this is exactly the opposite of what this country needs if we are to build a truly progressive, enterprising and sustainable economy.
We support calls for the fundamental reform of the business rates system to ease the burden on traditional high streets and town centres in the age of online shopping and hope this will form part of your Budget announcements. However, with businesses due to receive their rates bills in the next month, there is a pressing need for immediate action. We urge you to listen to these businesses and to the voices of all those who expressed their concern at this policy, including the Federation of Small Businesses, London Chamber of Commerce and the Mayor of London, and act now to protect our businesses from these huge rate rises.
Yours sincerely,
Cllr Lib Peck, Leader of Lambeth Council
Helen Hayes MP, Dulwich & West Norwood
Chuka Umunna MP, Streatham
WeAreWaterloo BID
South Bank Employers' Group
South Bank Business Improvement District
South Bank Partnership
This Is Clapham BID
Brixton BID
The campaign
The council is campaigning alongside the Lambeth's Business Improvement Districts against the rates rise and has written to every business in the borough alerting them to the impending increase, and suggesting how they can make representations to government.
A London-wide campaign is also underway, supported by Lambeth council and backed by the capital's Mayor Sadiq Khan along with London Councils, London First, London Chamber of Commerce, Federation of Small Businesses London and New West End Company, with 37 additional groups including 32 London BIDS.
London businesses are set to pay an additional £855 million in business rates every year, while businesses in much of the rest of the country will see rates decrease in real terms.