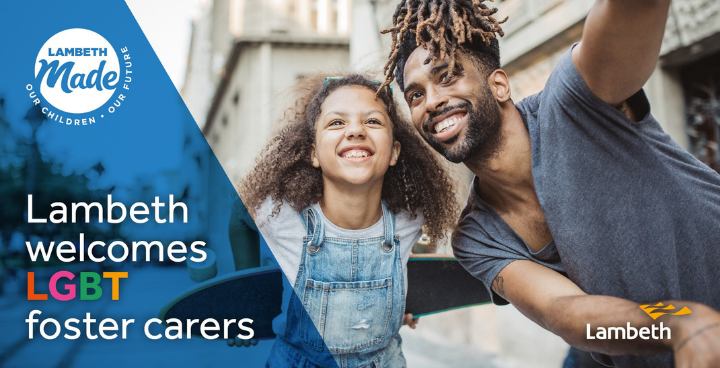 Lambeth Council's in-house fostering service are hosting an information session on Thursday 7 March to invite anyone interested in fostering – in particular those from LGBT backgrounds – to come and find out more.
Why is this important?
In 2018 there were 75,420 looked after children in England, an increase of four per cent from 2017. There's an ongoing need for more foster carers across the UK as well as for more people to consider adoption.
Unfortunately LGBT+ people still report high expectations of discrimination from foster and adoption agencies. To counter this we've asked one of our foster carers from a same-sex couple to share their experience with you and dispel any myths around this.
Come and find out more on Thursday 7 March
Please join us at our next information session to see if fostering is the right choice for you and your family. One of our carer's, Michael, will be there to share more about his first-hand experience of fostering. There will also be the opportunity to ask your questions to both him and members of our friendly foster care team.
This event is also available for anyone to attend. We consider applications from anyone over 21 years, with a spare bedroom and permanent UK residency. We also consider applications from people who are working, but you'll need to have some flexibility to meet all the needs of any child in your care.
Thursday 7 March 6pm – 8pm
Room G-01, Lambeth Town Hall
Please register online.
Teas, coffees and refreshments will be provided.
If you're unable to attend, you can find out more at www.lambeth.gov.uk/foster
Or speak to one of the team by calling 020 7926 8710. You can also email fosteringduty@lambeth.gov.uk
Interested in adoption?
This event has been organised in support of LGBT+ Adoption & Fostering Week from 4 – 10 March. If you're interested in speaking to someone about adoption, please contact fosteringandadoption@lambeth.gov.uk or visit www.lambeth.gov.uk/adopt to find out more.
Michael shares his story of fostering for Lambeth
Michael, a freelancer and his partner, a head teacher, have been fostering for two years. He tells us what his experience of fostering has been like, why he chose Lambeth and what he would advise anyone from the LGBT+ community who is thinking about becoming a carer.
What made you choose Lambeth Fostering?
"I've lived here for 20 years so this is home to me. I also wanted to be involved in the local community and give something back.
"I've always perceived Lambeth as a well-run borough and so we chose Lambeth Fostering to keep things local. I had fostered a boy from Hertfordshire in the past which made things like school admissions very difficult. There are often lots of agencies you need to interact with – and when they're all from different places it takes much longer to get people together and get things done."
Does being in a foster carer in a same sex relationship have any specific challenges?
"I never had any concerns about my sexual orientation when approaching Lambeth. And I don't feel like we were treated any differently. Lambeth's population is very diverse so perhaps it's much easier to be 'different' here than elsewhere.
"The real challenges of being a foster carer are not related to sexuality. Your immediate concerns are always for children – have they been neglected? Or abused? It's all about the child – the focus is on them and not you. It's not you, your politics or your views even that come into it. It's the skills you need to bear that are important. To foster children you need a great deal of patience and understanding."
Did you have any preconceptions about fostering that other LGBT people may relate to?
"I guess before we became carers I wondered whether we would be considered the "gay foster parents" so therefore be expected to look after just LGBT children. But equally we had a background in caring for a severely autistic child. Obviously we welcome children from both these backgrounds, but just didn't want to be pigeon-holed.
"The types of placements we were offered have been varied – and we were never contacted exclusively about children because of their sexual orientation or otherwise. I think it's fair to say that Lambeth have been really strong upholders of non-discriminatory practise.
"You also receive training where you're encouraged never to feel pressured to take on a particular child. And that you should only take on a placement where you can meet the child's specific needs."
What would you say to anyone considering becoming a foster carer?
"When applying to become a foster carer what they're interested in is your commitment, your motivation and capacity to love and care for children in need of protection.
"If you're considering becoming a foster carer there will be challenges. It's quite a long process to become approved and the outcome is unknown. Placements can succeed or breakdown for a number of reasons, none of which are under your control. You won't be challenged on your sexuality but your motivations and reasons for becoming a foster carer will be tested."