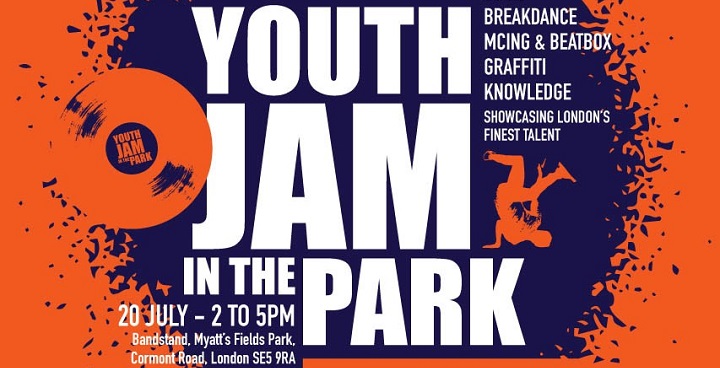 Lambeth Made's Youth JAM in the Park is an exciting, creative music and performance event in Myatts Fields Parks on 20 July. It's the result of a partnership with some grassroots community organisations and will take forward the conversation with young people about serious youth violence.
Youth Views
Up to 200 young people will give their views on street violence and positive aspirations using a feedback wall, a video booth, digital surveys and face to face interviews.
Peace, Hope & Unity
The event follows workshops inspired by the positive themes of Hip Hop — Peace, Hope and Unity. Headliners from the Hip Hop world will perform for free alongside local young talent – who arts professionals have been supporting to develop beats, MCing, scratching, breakdance and graffiti art pieces that explore issues like the pressure to be involved in negative activity.
Event management
The young people involved also learnt event management skills, from marketing, film production, and security, to breaking down and clearing up and will receive Arts Award Accreditation.
Arts activism
The event was the brainchild of arts activist Halima Chitalya from 'Jokes Arts Music' (JAM UK) who in collaboration with the artistic director of Longfield Hall set up the arts event with community worker and music lover Michelle Killington from Vinyl Memories.  Lambeth Made met them at the Serious Youth Violence community event at Brixton Library last May and they agreed that they had the ingredients for an impactful consultation event for young people using the arts as a magnet.  Consultation findings will influence commissioning and future service design and help shape Lambeth's cross-sector Serious Youth Violence Strategy.
More information
For more information, email Shaff Prabatani
Any young people who complete our web survey about Serious Youth Violence in Lambeth. can win one of five £100 shopping vouchers.
Myatts Fields Park Project, Longfield Hall, Jokes & Music, Vinyl Memories and Lambeth Council are all contributing time, space, money and expertise to the event, co-sponsored by the Mayor of London in partnership with the National Park City Foundation.