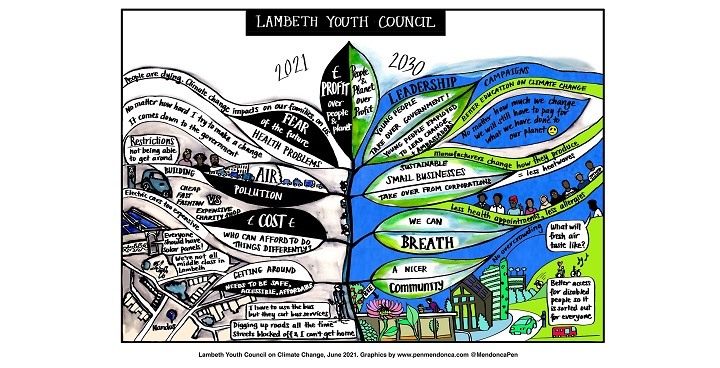 Participants in Lambeth's Climate Assembly have successfully completed 'Phase 1 – Learn'. On 25 May, 50 residents representing the population of Lambeth, met for the first time to collectively decide upon priority areas for reducing the borough's greenhouse gas emissions to net zero. Crucially, they are also exploring the trade-offs involved in such a huge step-change for every Lambeth citizen and organisation. Over the next 3 weeks, this diverse group of people will have completed 'Phase 2 – Local Solutions' and 'Phase 3 – Recommendations' and a set of proposals in response to the question:
How can we work together in Lambeth to address the climate crisis and its causes fairly, effectively and quickly?
On Tuesday evenings, assembly members have reflected on expert presentations and debated what is important to them – from fairness to taking urgent action. During Thursday evening sessions, assembly members have heard from experts about the causes and solutions to the climate crisis.
During the first Thursday session, we heard from Alice Bell talking about how long we have known about climate change. Interestingly, the link between carbon dioxide and global heating was first discovered in 1856 by a female scientist, Eunice Foot. Dr Neil Jennings then talked through the positive co-benefits that can arise through climate action such as children missing 21% less school days due to better insulated homes in New Zealand. "When we think about the challenge ahead and looking at the risk of climate change in the borough, it can be really daunting. It means taking a hard look at wasn't working before the pandemic and tackling those things worsened by the pandemic – youth joblessness, health inequalities for example." Claire Holland
In the second Thursday session we heard from Tessa Khan discussing the historical context of UK emissions. In her video here, you can watch a powerful synopsis of the historic emissions of the UK worldwide. Dr Vanessa Caston Broto then gave a passionate presentation about the importance of inclusion and designing for the most vulnerable when considering solutions. She said "No one know what this transition looks like". This quote summarises the tough task that assembly members have as the future path is not defined. Our assembly members are envisioning a net zero future and agreeing upon best pathways to get there.
Finally, Hannah Jameson, Climate Lead at Lambeth Council, talked through the emissions of the borough and set out the role of the council within this. The graphs shared show the three areas which need tackling: transport (24.8%), domestic (41.2%) and commercial (33.9%). Within those areas, private car use accounts for 50% of emissions from transport, while warming homes accounts for 63.6% of emissions within domestic. Tackling those two issues will have huge impacts decreasing the carbon emissions of the borough, while also realising other benefits including cutting fuel poverty and improving respiratory health through improved air quality.
The overarching observation from Phase 1 of the assembly is the importance of the process being representative and deliberative. Assembly members are not a homogenous group, and the diversity of views has been so important in raising valuable questions about proposed solutions. Who across the borough will be affected if we do not act? Will the most marginalised communities across Lambeth be further impacted by the real and immediate impacts of climate change like we see globally?
This brings us to the end of Phase 1 on a hopeful but determined note. There are huge challenges ahead which the assembly members will grapple with over the next few weeks as they Discover the solutions and what is already happening in Lambeth, before moving onto the final phase to Recommend how we reach net zero emissions Lambeth.