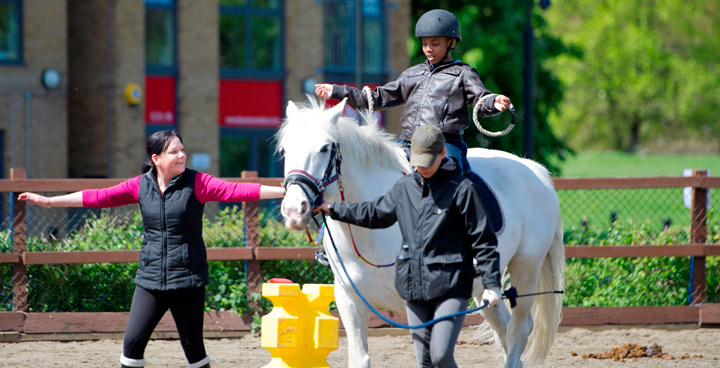 Vauxhall City Farm is home to small and large animals such as rabbits, guinea pigs, chickens, ducks, sheep, goats, alpacas, horses and more. It offers an ideal opportunity to escape the stresses of the concrete jungle and reconnect with natural in a unique and peaceful environment. The farm's vision is for a city where people from all communities are empowered to experience nature to enhance their health, well-being and life chances.
The farm offers educational, recreational and therapeutic activities ranging from riding lessons for all ages and abilities including for the disabled, to school visits, holiday clubs, birthday parties, team building days, venue hire, small pets hotel and mobile farms.
Get involved
We rely heavily on our amazing volunteers to help with all aspects of farm life. Whether you enjoy working with animals, running events and fundraising or have a specialist skill that can be put to good use, the farm welcomes all who want to give a helping hand.
Enchanted by the farm's charm, but with no extra time to give? There are other ways you can help – organise a sponsored challenge, adopt an animal, become a Friend of the Farm or choose the farm as your Charity of the Year at work. Each valuable donation will help enable the farm to continue and develop its community services which include opening a new education centre, community kitchen and café.
Would you like to throw an unforgettable birthday party, bring a class to visit or become a volunteer? Perhaps you fancy a canter in front of the MI6 building? Maybe your business would like to sponsor an apprentice? There are so many ways to get involved.
For more information, visit www.vauxhallcityfarm.org email info@vauxhallcityfarm.org or call 020 7582 4204.